A Stunning crossover of Eastern end of Dhauladhar Range from Manali to Lahaul valley &
the most popular trek in Manali
Overview

Itinerary

Departure

Included

Equipment

Gallery

Reviews
Trip Introduction
Hamta Pass trek is most beautiful trek around Manali and can be done by anyone reasonably fit.  Hamta pass lies on beautiful Pir Panjal range and is small corridor between Lahaul and Kullu valley of Himachal Pradesh. Hamta village is located below Sethan village and from where it got its name. This pass is frequently used by Sheperds of lesser Himalayan region. Seeking for high altitude grassland in the dry cold desert of Lahaul during summer time. Numbers of wild flowers, varieties of herbs can be found at the altitude between 3000 to 3800m.
Setting off from Manali we drive to Sethan village 2700m and continue to Panduropa - Jobri. Our starting point of trek. Setting off from Jobri first we cross the ford on Jobri nallah originating from Deo Tibba massif.  The route from Chikka to Jobri passes through forest of Deodar, Oak, walnut and Birch tree. Gradual climb to Jwara and Balu ka gera. Balu ka gera is better known for Bear's den or Bear's circle. Can see only during May end to mid June. Final ascent leads through  boulder and scree to the pass.  Spectacular view of Indrasan 6221m and Deo Tibba 6001m only can have on clear sky. Crossing river near Shea goru camp we descend to river bed and follow the left bank of Chandra River to Chatru. It is 4 hrs drive back to Manali crossing Rohtang pass. With magnificent view of Manali and Solang  valley while descending to Kothi. 
Outline Trek Itinerary
 Day 1  Manali (1950m), drive to  to Jobri (2800m), Trek to Chikka (3100m)  3-4 hrs.
 Day 2  Trek to Jwara (3450m) - Balu ka Gera (3600m) 5-6 hrs.
 Day 3  Trek to Hamta Pass (4268m) - Shia Goru (3900m) 7-8 Hrs.
 Day 4  Trek to Chatru  (3320m) 4-5 hrs. Drive to Koksar - Atal Tunnel Rohtang la -Manali (2040 m) 
Outline Trek Itinerary
Day 1  Manali (1950m), Drive to Jobri (2800m) 2 hrs.  trek to Chikka (3100m)  3-4 hrs.
Setting off from Manali we drive to Sethan and continue to Jobri. The trail passes through thick forest of Deodar, Oak, walnut and Birch tree to Chikka, which has beautiful campsite in an open meadows.
Day 2  Chikka - Jwara 3450m - Balu ka Gera 3600m. 5/6 hrs.
Trek.Today leaving Chikka we follow the left banks of Hamta. Later we cross Hamta stream by bridge. Another wooden bridge at short distance. Around Chhika some fantastic view of Rocky Mountains. After crossing the second bridge we climb gently to Jwara for 2 hrs. walks. Where we will pass beneath the waterfall. The next adventure is going to be a stream crossing just before Jwara. With the help of Guide and if not, with the help of riding horse you may cross the stream. Now the trail gently climbs to Balu ka Gera campsite. From where we will have first view of our next day crossing of Hamta pass. It's a beautiful campsite close to crystal clear water. Be aware of Bear in this area by early season trek and late season trek. The area itself is known for Bears Den. Keep exploring surrounding of you for a rare view of Bear.
Day 3  Balu Ka Gera -Hamta Pass (4268m) - Shea Goru (3900m) 7 Hrs. trek.
A gradual climb begins after Bhalu ka gera (bears den). Balu ka Gera that is known for wild flowers, rocks and caves. A further 1: 30 hrs. Minutes trail takes you to Hamta pass. From Hamta pass fantastic view of Inderkila, Deo Tibba (6001m) and Indersan (6220m). Which is superb to see? After crossing the Hamta pass, one enters the Lahoul valley. Walk down to the campsite near by the stream. Overnight camp.
Day 4  Trek to Chatru  (3320m) 4 -5 hrs. Drive to Atal Tunnel Rohtang la  -Manali (2040 m) drive 3 hrs.
Cross-stream near the camp and follow the right bank until it joins with the Chandra River. Again, cross the same stream by small wooden bridge. Now follow the left bank of Chandra River. 30 minutes later a motor able bridge to be cross to reach at Chhatru. Drive to Koksar and continue to near Sissu, from where we take Atal Tunnel Rohtang to Manali.
Trip ends
Included in the Cost​
All ground transportation to & fro as per the itinerary.
3 - 4 season tent, sleeping bag, comfortable foam sleeping pad, trekking poles.
All camping facilities: Mess tent, camp chair and table.
All meals during trek from Indian, local, Tibetan, Chinese and continental cuisine.
Support staff: Qualified & trained local guide, chef and camp boys.
Muleteer or porter  for portage of your baggage's.
Camping fee, trekking permits and fee, park fee.
Medical first kit includes medicine for high altitude sickness, mini oxygen bottles.
Includes GST  5%.

Not included in the Cost​
Hotel accommodation in Manali.
Day 1st breakfast and last day dinner.
Travel insurance.
Soft or hard drinks.
Tips for Guide(s), cook(s), camp boy(s), muleteer(s), porter(s) and driver.
Any unforeseen cost arises by natural hazards rain, snow, road block which cost extra and beyond trip Schedule.
Trekking Gear
What we provide
We provide all the GROUP GEAR included in the following list:
3-4 Person roomy 4 season tents for 2 - 3 people and individual as well, dining tent, toilet tent and other camping accessories.
Sleeping bags and comfortable foam mattresses.
Kitchen tent, Stoves, fuel, cookware etc.
Bed tea, nutritious breakfast, three course meal (dinner), packed lunch, post trek snacks, tea and coffee.
Trekking poles and Duffel bags for your luggage's.
Basic first aid box and mini oxygen bottles
What you may need - Your personal gear recommended in List :-
Day pack: A bit of bigger size 30 - 40 liters in order to keep fleece, jacket, water bottle, camera, packed lunch
Foot wear :-
Good condition trekking boots – not new used before in your country side for best fit for trekking, water proof.
Camp shoes, light and comfortable as running shoes or sandal ( like Teva ) for river crossing. Its necessity for you to bring sandals for river crossing.
Socks both Woolen and cotton as desire.
Clothing :-
Gore tex jacket or similar.
Down jacket/vest is good for cool evenings.
Wind/Rain jacket: (i.e. gore-tex, northface or similar) waterproof and breathable. Its necessity to have jacket while crossing passes.
Trekking pants, light, comfortable, water proof /breathable.
Long sleeve shirt Light weight dry-fast (for sun/insect protection).
Thermal innerwear winter thermal innerwear.
T-shirts for day time.
One mid weight/heavyweight fleece (long sleeve) jacket or warm pullover.
Short pants, underwear.
Sun Hat: cowboy style or baseball style to protect skin from direct sunlight.
Woolen cap for high altitude or while crossing pass or during evenings in camp.
One fleece or sweatpants for cold evenings during dining.
A pair of Hand gloves or woolen gloves.
Scarf to protect from dust or sunlight around neck. This is available in local markets with variety of colors.
Accessories :- 
Sun glasses with UV protection. An extra sun glass in case to replace.
Sun screen and lip protection.
Moisturizer cream: In Ladakh the air is dry and sun is harsh and strong during day. There are local moisturizer cream available in market. To avoid somehow skin allergy bring your personal cream.
Water bottle. Minimum I - 2 liter.
Trekking poles or sticks. If you have your own folded poles. 
Torch or one head lamp with extra batteries. Petzl or similar.
One toiletries kit, small towel.
Reading and writing materials.
Digital Camera or digital video recorder / solar charger.
Water purification tablets.
Nylon or water proof plastic bags to storage clothes and stuff.
One pocket knife light.
Others :- 
Gaiter / personal  climbing gear. (Can rent at Manali or Leh or Uttarkashi).
Water purification/filter: we boil water for you in the camp, what its essential you to have a water purification tablets or filter during the day of trekking.
Mosquito repellent cream.
Small Binocular.
First aid kit: We carry basic first aid kit with diamox, aspirin, paracetamol, antibiotics for diarrhea, antiseptic, bandage and band aids, Please you bring your personal first aid kit with medicine you think to need necessity for you.
Vitamin tablets or similar. 
Extra passport photos.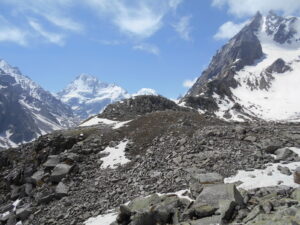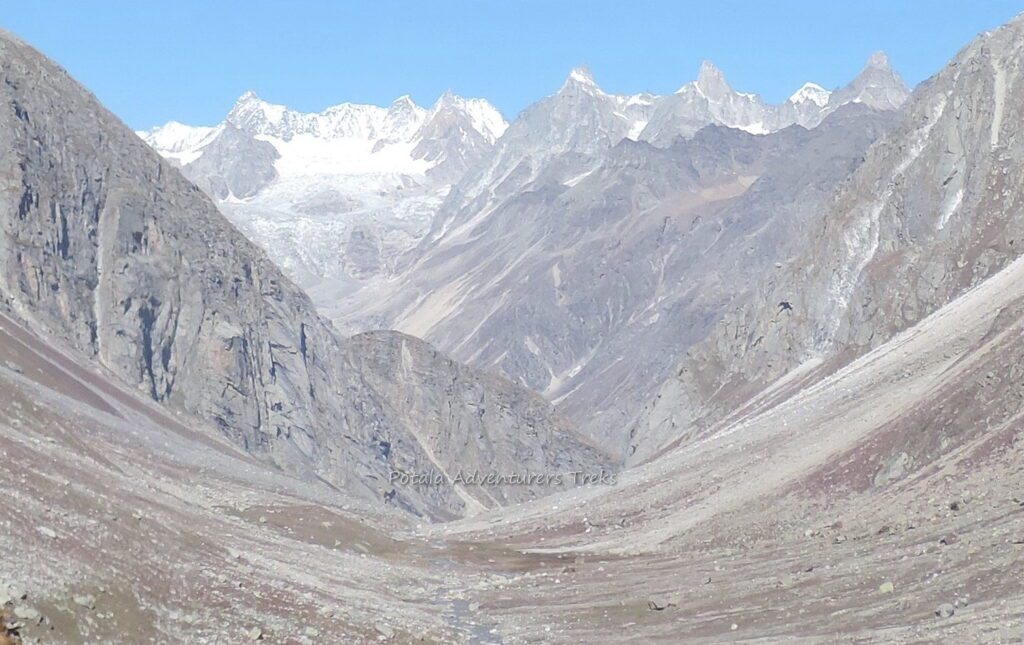 Trip Facts
Kullu Lahaul region – Himachal Pradesh
Difficulty Level – Moderate,
Max Altitude – 4268 m 
Trip Length – 4 days Manali to Manali,
4 days of Trek and 3 nights of Camp
Activity – Trekking expedition
Best time – May, June, July, Aug, Sept, mid Oct
Meals – All meals during the trek