Mulkila 6517m (21,380ft) is the highest peak in the Lahaul-Spiti province of the Himachal Pradesh state of the Indian Himalayas. The mountain is one of 10 summits of the 'M' series – and although the highest at 6517m, it was given the title 'M4' when the region was first surveyed.
Himachal Pradesh is a leading and popular trekking destination in Indian Himalaya. With many short treks in Himachal, Hamta pass is considered one of the best trek in the Manali region. Hamta pass at an altitude of 4270m, located on the easternmost part of Pir Panjal range of Himalayan foothills. Hamta pass trek is a breathtaking but relatively moderate trek that anyone beginner or experienced trekkers can do. Famed for spectacular Himalayan landscapes that change dramatically as you progress and combining stunning mountain scenery with three or four days of manageable walking. Crossing Hamta pass the landscape changes dramatically from lush green to barren semi-desert of Lahaul & Spiti district of Himachal. Hamta pass frequently used by Shepherds from the remote Kangra region, who goes at higher meadows of Lahaul during summer with their flocks of sheep. Indrasan and Deo Tibba are two peaks that you will see during the Hamta pass crossing.
Chandra Tal meaning the Lake of Moon is situated at an altitude of 4270m in the Himalayan region of Lahaul and Spiti. Chandratal is a popular destination for trekkers and campers. The trail from Kunzum La is more scenic and panoramic overlooking Samudra Tapu glacier, CB peaks, KR group of a peak, and among all the highest Mulkila peak standing west of Chandratal. It takes only 4 hrs. walk from Kunzum La to Chandratal Lake. The vast meadows of Lake and its surroundings are favorite summer homes for Gaddi Shepherds who graze their flocks in the vicinity of the Lake. The Gaddi shepherds have long held traditional grazing rights in the area. The Lake is also one of the two high-altitude wetlands of India which have been designated as Ramsar sites.
Overview
This Mulkila Circuit trekking program sets out from the Jobri (2900m) in Hamta valley. At the beginning of Hamta valley and ends after arriving at Baralacha La (4890m). Beginning to trek from Jobri (2900m) gentle and easy trail through thick silver oak forest, Hamta river to Chikka (3300m), following by small stream before Jwara. Scaling height and leaving Bears den (Balu ka Ghera) behind you cross Hamta pass (4268m). From the top of the pass, one could see peaks of Deo-Tibba (6001m) and Indrasan (6220m). Now trek down to main Chandra valley, after crossing river, following the left bank of Chandra, we cross over the wooden bridge near Chhatru (3100m). Further 45 km on a dirt road, driving up to Kunzum La (4551m) having a view of Spiti valley, 8 km trek down in large meadows, the lake of moon approached. The view of Mulkila peak will remain in sight soon after starting a trek from Kunzum la. Further, the trail crosses the two rivers crossing Tokpo Yongma and Tokpo Gongma. Crossing over the boulders and grassy stretches, reach the top of the Baralacha La. The pass joins the Manali-Leh national highway.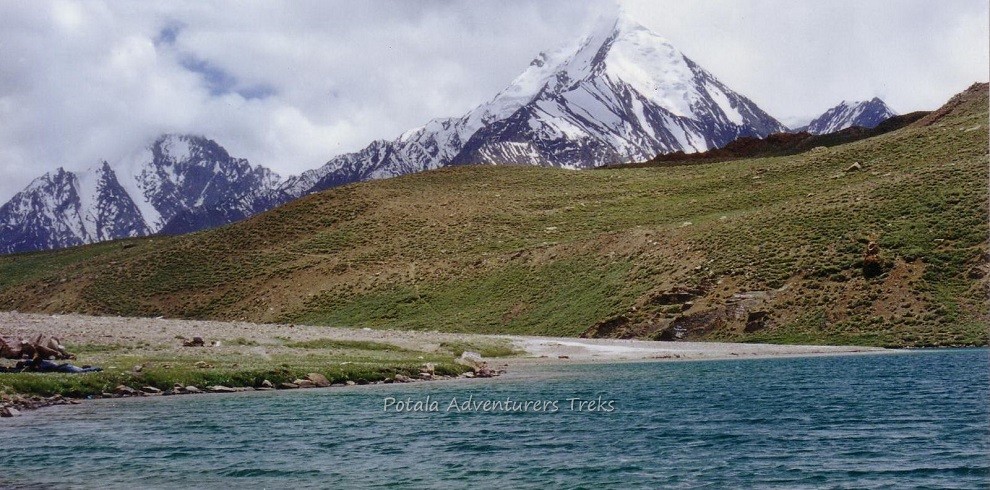 Itinerary
Day 1: Manali, drive to Prini (1'900m) – Jobri (2900m) 1 hr -Trek to Chikka (3,100m) 4-5 hrs.
Today leaving Manali, we drive 3 km south of Manali on the left bank of Beas River to Prini village. Continue to drive through the Prini village and temple located above the village. Arriving at Hamta village and Sethan village. Sethan village is a small settlement of early horseman known as Khampas of Tibetan origin. Who is mainly dealt with trekking mules up today? A 45-minute walk through alpine forest to the Panduropa, Panduropa is known for the small paddy field – where Pandavas of Mahabharata during their exile, spent a part of the time in this region and said to be cultivated crops at Panduropa. Now we trek 3 hrs. Horizontally through a thickly forested area with an abundance of flowers until reaching the campsite of Chikka.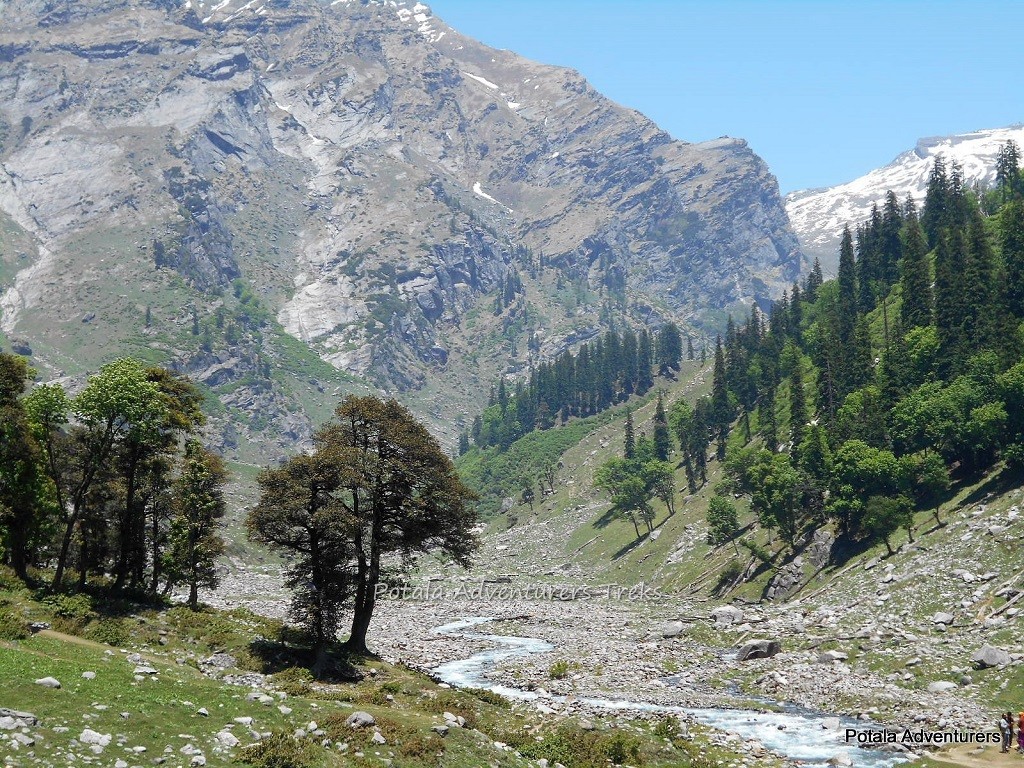 Day 2: Trek to Balu Ka Gera (3'600m) 6-7 hrs, O/N camp.
Today leaving Chikka we follow the left banks of Hamta. Later we cross Hamta stream by bridge. Another wooden bridge at a short distance. Around Chhika some fantastic views of the Rocky Mountains. After crossing the second bridge we climb gently to Jwara for 2 hrs. walks. Where we will pass beneath the waterfall. The next adventure is going to be a stream crossing just before Jwara. With the help of Guide and if not, with the help of a riding horse, you may cross the stream. Now the trail gently climbs to Balu ka Gera campsite. From where we will have the first view of our next day crossing of Hamta pass. It's a beautiful campsite close to crystal clear water.
Day 3: Trek to Hamta pass (4'268m) – Shea Goru (3'900m) 7-8 hrs, O/N camp.
A gradual climb begins after Bhalu ka Gera (bears den). Balu ka Gera is known for wildflowers, rocks, and caves. A further 1: 30 hrs. Minutes trail takes you to Hamta pass. From Hampta pass a fantastic view of Inderkila, Deo Tibba (6001m), and Indrasan (6220m). Which is superb to see? After crossing the Hampta pass, one enters the Lahaul valley. Walk down to the campsite nearby the stream. Overnight camp.
Day 4: Trek to Chatru (3'100m) 5-6 hrs, Drive to Chota Dara 1 hr. O/N camp.
Cross-stream near the camp and follow the right bank until it joins with the Chandra River. Again, cross the same stream by a small wooden bridge. Now follow the left bank of Chandra River. 30 minutes later a motorable bridge to be cross to reach the campsite of Chhatru. After some break, we drive from Chhatru to Chota Dara campsite. Which is situated along the Chandra River with a breathtaking view of Bara Shigri peaks.
Day 5: Drive Batal – Kunzum la (4551m) 1:30 hrs, Trek Palhamo dhar (4650m) – Chandratal (4270m) 5 hrs.
Leaving Chota Dara behind we continue along the right bank of Chandra River. Good view of Bara Shigri glacier on the left side. All above the glacier which is 12 km in length longest in Himachal, peaks of White Sail, Shigri Parbat, and Kullu Makalu where daring mountaineers touch the sky can widely be seen. Crossing bridge soon after Batal, we drive towards Kunzom la following a small stream, which originated above the pass. Arriving at pass has a glimpse of Spiti valley, which runs 170 km towards the south. We take a path, which goes to Lake 8 km; approach large meadows – a favorite area with a multitude of shepherd's huts. Passing and crossing a long stretch of stony ground and small stream arrive at the lake. Across Chandra river most fascinating sight of Samudra Tapu glacier, North Dakka glacier, South Dakka glacier, and Silver glacier. Above the glaciers towering mighty peaks of Mulkila and C.B. peaks. Leaving Kunzom we trek to Chandratal which is 8 km long and has a wide panoramic view of Chandra Bhaga peaks all around. Camp after Chandratal.
Day 6: Trek to Tokpo Yongma 4'400m 6-7 hrs, O/N camp.
A long exhausting trek but well worth, because occasionally trekkers encounter patches of green pastureland. This stretch is about 14 to 16 km. The trail starts with a series of ups and downs through steep ravine and boulders – stream fields. As you progress, a flat grassy land, which slopes up to snow, clad ridge. Snowcock can be heard has heard and even sighted, if you are lucky. After 3 hrs the trail winds down a knoll, which has a steep precipice to the river far down to the left. Cross the stream if the water is low or find Snow Bridge up near the source. Or camp and cross next morning as earliest.
Day 7: Trek to Tokpo Gongma (4'700m) 6-7 hrs, O/N camp.
Trek through a narrow valley flanked on both sides by snow-capped mountains. Star walk early as possible since this stream to be cross, while the flow of the water is less early in the day. A short walk after crossing the river, here the valley opens out on a broad plateau where the camp is set on a delightful grassy patch.
Day 8: Trek to Baralacha la (4'890m) 4-5 hrs & drive to Keylong (3'100m) – Atal – Tunnel – Manali (1'940m) 7 hrs.
Today early departure from camp towards Baralacha la pass, which is 7 km long, gives the source of three rivers – Chandra through South, Bhaga through upper Lahoul, and Yunam towards Zanskar. A splendid view of M-4, which is the highest in the Moulkila range, can be seen from the trail as well as of Keorang range of the Great Himalayas. On the pass, join the main highway. We will be pick up by our vehicle here and drive to Manali.
Trip Highlights
A spectacular crossing from Lush green Kullu to Lahaul-Spiti valley
Camp at High Alpine meadows
Chandratal Lake - The lake of Moon
Meeting with Gaddi Himalayan Shepherds
View of Bara Shigri glacier peaks, Moulkia group of peaks, Keorang group of peaks, CB group of peaks