This demanding and Challenging Trek takes us to the land of Changpa nomads living in the vast high plateau of Changthang. It focuses mainly on the life of Nomadic people and wildlife in motion.  After 2-3 days of well acclimatizing in Leh, we drive to Rumtse (85 km) located at the foot of Tanglang la (5328 m). Beginning to trek from Rumtse we cross overpasses of Kyamari la, Mandalachan la, and Shingbuk la before approaching Tsokar Lake. Since this tour is taking place in the Changthang region, which has an average altitude of 4000-5000m, higher than central Ladakh and Nubra valley. In that case, long acclimatization is a must before starting of trek.
Overview
The first stage of the area is relatively uninhabited, while the second phase after Tsokar up to Tsomoriri Lake the area is vastly dwelt by Changpa nomads. We visit the number of yurts along our trail and carefully witness nomadic daily life. Crossing over 3 high passes of Kyamayuri la, Kartse la, and Yarlung Nyau la we arrive at Korzok. One of the largest nomadic settlements in the region. Occasionally chances to see wildlife such as Kyang, black naked crane, Tibetan Antelope, Himalayan Marmot, and Blue Sheep. Finishing trek at Karzok we drive back to Leh via Chumathang.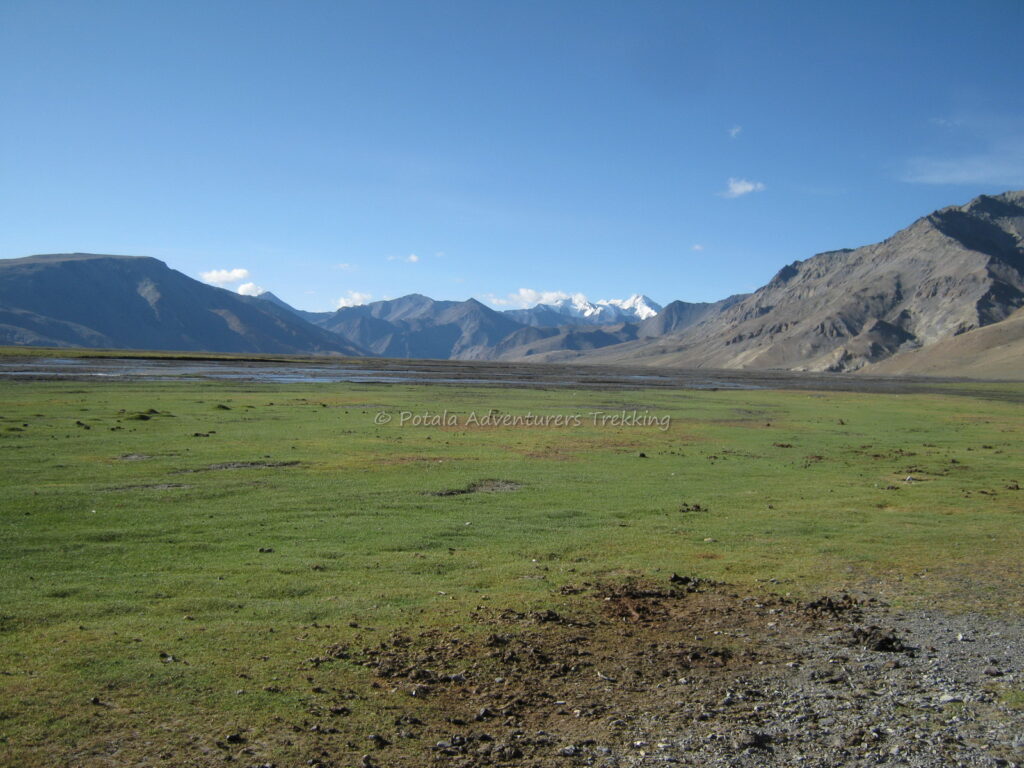 ITINERARY
Day 1: Drive Leh – Shey – Thiksey – Hemis – Rumtse (4150m).
After breakfast, drive to visit Stok via Choklamsar. We cross a bridge on the Indus River. In Stok, we visit the Royal Palace of the present king and queen which was constructed by the kind Tsepal Tondup Namgyal in 1825. Inside the palace, you" ll find a great collection of ancient royal ornament. After visiting Stok Palace, drive to Shey – Thiksey and visit Hemis monastery which is 45 km far from Leh and it takes a 90-minute drive. The great Mahasiddha Staktsang Raspa along with great ancestor Singey Namgyal builds this biggest monastery in the 16th century. After visiting this monastery, drive back to Thiksey monastery, which is 27 km from Hemis. This monastery is the oldest monastery of Gelugpa School in Ladakh. The great Lama Palden Sherap built it in the 14th century. Here you can see the big statue of the Future Buddha. Finally at the campsite of Rumtse.
Day 2: Trek Rumtse to Kyamar (4390m), 4-5 hrs.
After spending 3 days in Leh we set off our trek from Rumtse. Walk along the road till you reach a Govt. tourist bungalow. From there take the right-side trail into the valley passing through some abandoned army huts.
Day 3: Trek Kyamar to Kyamar La (5180m) – Mandalchan La (5170m) – Tisaling (5000m), 6 hrs.
Today leaving camp a few minutes after walking the trail divides into two; one going to the left leading towards Tsokar lake and one on the right takes you to a stream, crossing which another pass to climb is there. Overnight in a Tented Camp.
Day 4: Trek Tisaling to Shingbuk La (5230m) – Pongunagu (4580m), 6-7 hrs.
Leaving camp a gradual and easy ascend will lead you to Shibuk La. There are many wild Asses (skyang) around this area. Pongunagu has also a nice camping site. Overnight camp.
Day 5: Trek Pongunagu to Nuruchan (4650m), 7 hrs.
Walking along with Tso Kar for much of the time on the trail. Today we have an easy trek along with the lake and its short trek of four to five hours. On the way, one can see many birds and Wild ass (Skyang) of Ladakh and Tibet plateau. After finishing the lake we turn to the right side and enter the Nuruchan. The campsite is set next to a beautiful stream. Overnight camp at Nuruchan.
Day 6: Trek Nuruchan to Horlam Kongka La (4960m) – Rachungkaru (4940m).
Today we have small pass Horlam Kongka La (4960m) to cross. It will take two hours to reach the pass from camp. After crossing the pass gradual descent the stream and the trail slowly ascend again. Soon you will see nomad tents. Arriving at Rachungkaru. Here the nomadic are Tibetan refugees who live in summer. Here we can see the lifestyle of nomadic people in Tibet. In this area, they have plenty of Yaks, Sheep, and Pashmina Goats. Overnight camp at Rachungkaru.
Day 7: Trek Rachungkaru to Kyamayuri La (5430m) – Kortse La (5380m) – Gyama Yogma (5170m).
Today is a long day ahead of us, so an early start from camp is recommended. You will have an early breakfast and early departure from camp. It will take seven to eight hours of hiking today. From camp gradual trail to the Kyamayuri la, takes about 2 1/2 hours. A view from the pass is breathtaking. You will have sight of Yalung nong. It is not so far our next pass of Kortse La, takes an hour. From the pass, one can see Gyama peaks, Mentok group of peaks. Descent to Kyama Sharma chu. Tonight's campsite is not so far from here, it will take less than an hour to reach Gyama yogma.
Day 8: Trek Gyama to Yalungnyau La (5440m) – Korzok (4600m).
Leaving camp today we cross our last pass probably the highest and final pass on our trek. It will be less than an hour to reach the pass. Crossing the pass and you will see the valley starts to open and with a view in front of Korzok and Tsomoriri. Long descent to Korzok Phu, where you will find large settlements of a nomad and their robos. Overnight camp at Korzok.
Day 9: Drive to Leh.
It is between 7 to 8 hours of drive to Leh back. We will take the Mahe route back to Leh.
REVIEW
"Hi Mr. Prem, It was really a wonderful trip to Ladakh. The trekking was sometimes a bit hard because of the altitude, but the team every time very friendly and helpfully. I enjoyed the complete journey very much. Your service was perfect, the hotels in Leh wonderful. Thank you."
"Namaste Friends – Thank you so much for organizing our outstanding journey. It works all so perfectly and the boys did such a great job and so all our wishes come true….I am sure that will be not our last trip with you. Hug."
Mr. Wolfgang S. & Mr. M. Wiplinger ( GERMANY – AUSTRIA) – 27 July – 15 August
Trip Highlights
Trekking in the Rupshu Changthang
Land of Changpa nomads & high passes of Ladakh
Trekking in the Western high plateau of Tibet
Turquoise lake of Tsomoriri