Miyar valley is situated in Northwest of Lahaul and Spiti district of Himachal Pradesh. The Miyar valley is stretching over 75 km from Udaipur to the great Kang la. Miyar Nala as it is often known, with the Miyar River running down from the snout of Kang la glacier into Chenab River for almost 50 km. This glacier stretches a further 24 km up to the high Kang La jot (5,468 m). The North of Kang La lies Zanskar of Ladakh union territorry.
Overview
Miyar valley is also known as the valley of flowers. It's an unspoiled area similar to Zanskar and local people in the area follow Buddhist customs and are mainly shepherds and farmers. During summer cultivating peas, Barley, and other vegetables.
July and August are prime times to visit this magnificent valley, blooming with high-altitude flowers, medicinal plants, herbs, and the rare blue poppy are quite famous among all. The Miyar valley is comparatively easy to reach by road and there are plenty of unspoiled things to explore which are still hidden from the outside world. The best time to do the Miyar valley trek is from Mid-May to Mid-July and September. Miyar valley is a paradise of Gaddi Shepherds, their flocks of sheep and goats graze in the high-altitude meadows until late summer. Known to the outside world as Yosemite of India or the Himalayas, many professional rock climbers have made ascents of unclimbed peaks, still, some peaks have not been climbed yet. We at Potala Adventure have successfully made logistic support for professional rock climbers in the past, the first ascent of Lotus tower SE face was climbed by Cyrill B, Elias G, Arunas K, and Gediminas S all logistics to them given by Potala Adventurers.
Leaving Manali we drive to Udaipur, which is famous for wood carved Margul Devi temple, continue to drive we enter the Miyar valley. Arriving at Urgos where there is a small gompa and further at Shukto, where we start our trek to Khanjar, Thanpattan, Zardung, and finally to Kesar Yon Chhap which means seven sacred waters at the snout of the Miyar glacier at the bottom of Castle peak, which dominates the Palphu area. A day to explore the Chhudong valley.  Takdung glacier faces Southwest and the Pimu la glacier sits on the opposite side of the Miyar River. The climbing peaks in the area are Neverseen tower (5,990 m) nearly 6,000 m located above Tawa glacier, Ogre I, II, & III, Lotus, Iris, Mr. Maudit, Om Shanti, Shabnam, Garuda peak, Premsingh peak, Toro peak, Ashoka's pillar, Mt. Mahindra peak (6080 m). Apart from these peaks, the well-known peaks in Miyar valley are Mt. Menthosa (6,443 m), Tharang I, II & III, and Phabrang (6,172 m).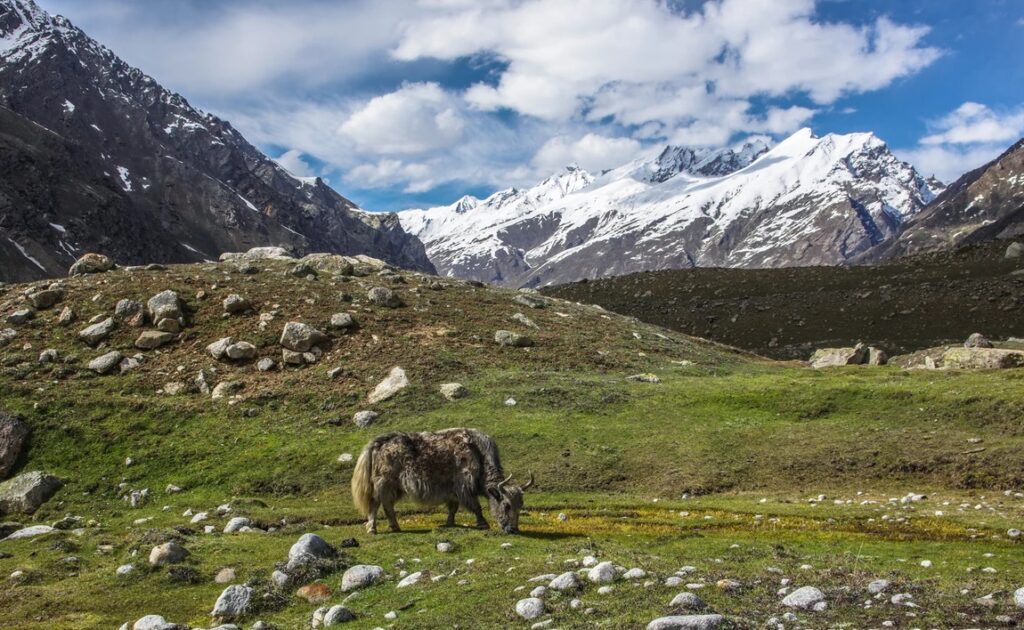 Itinerary
Day 1: Manali – Urgos (3,300m) – Shukto (3,470 m/11,380 ft). Drive 137 km, 5 hours, Trek Khanjar – Meadow camp at Doksa (3680 m/12,070 ft), 4 km, 1:30 hours.
Starting the trip from Manali, at the head of the lush green Kullu valley. After the Atal Tunnel Rohtang, the landscape changes dramatically, the greenery being replaced by barren hillsides, where the village with its bountiful fields of barley, peas, and potatoes, stands out in stark contrast. On entering Lahaul the Buddhist influence is visible in the many monasteries crossed on the way. The people here have distinct Tibetan features. Chandra River valley up to Tandi confluence, then drive along the Chenab River. On the way, we visit the famous Trilok Nath temple and Margul Devi temple at Udaipur. Udaipur is the sub-divisional headquarters of Lahaul and Udaipur gets its name from Raja Udai Singh of Chamba. From Udaipur through the narrow gorge making the entrance to Miyar valley. The village of Chamrat is with Mani walls and prayer flags is the first village in the Miyar valley. Now road leads through flowered meadows and peas and millet fields to the village of Karpat. Urgos is at the confluence with the valley leading to Mt. Menthosa (6,443m). Continue from Urgos, we drive 6 km to Shukto – Khanjar bridge the road-head. Setting off from here we climb gently to Khanjar, the last village in the Miyar valley. The trail winds up gently through fields, Chortens, and willow trees. Above the village on a beautiful alpine meadow, carpeted with edelweiss and catmint. A short walk for 2 hours will take us to the campsite in the meadows. Overnight camp.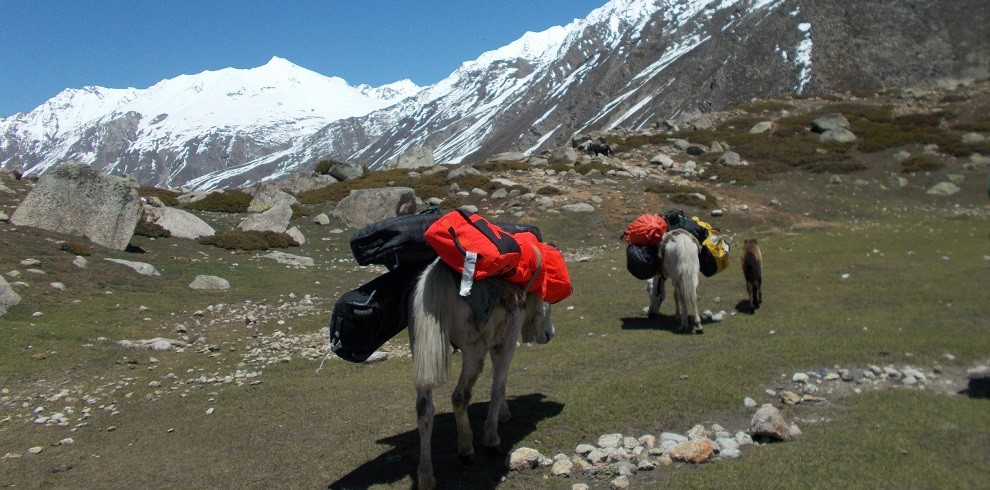 Day 2: Trek Thanpattan (3,750 m / 12,300 ft). 6 km, 5 hours.
Leaving camp today continue on the trail to Thanpattan. There are lovely pastures all along the trek up to the camping site. The trek continues to the left side of the stream. A side stream coming from the Tharang glacier mingles here with the Miyar Nala. The trail goes through vast meadows for hours. Continue on the trail and after crossing Gompa Chorten the trail passes through rock and boulders and finally to the campsite at Yolithang which is short after Thanpattan. From Khanjar until Kesar Yon Chhap, there are plenty of places to camp and numerous choices are there to set camps. Overnight camp.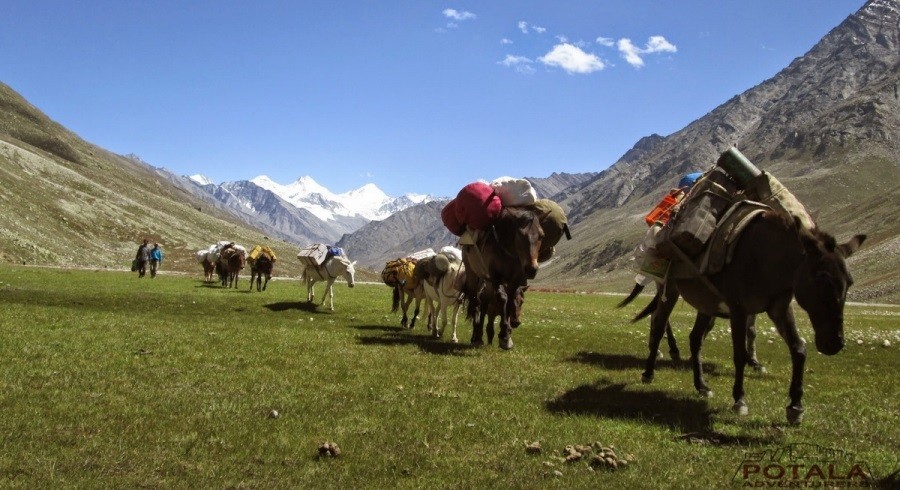 Day 3: Trek Zardung (3,880 m / 12,700 ft). 10 km, 6 to 7 hours.
Leaving Thanpattan or Yolithang camp, crossing of ford and through boulders and to vast alpine meadows of Gompa. During summer all these areas are carpeted with flowers. After hiking for two hours, you reach Gompa Nala (3,800m) and cross the bridge and ascend gradually. Continue through the alpine pasture to the Zardung campsite. The Tharang group of 6000+ peaks remain insight this all day. There is a Takdung glacier stream to be crossed the next day and afternoon the level of the stream goes up. We camp before this stream in order to cross tomorrow when the level of water will be convenient for crossing. Overnight camp at Zardung.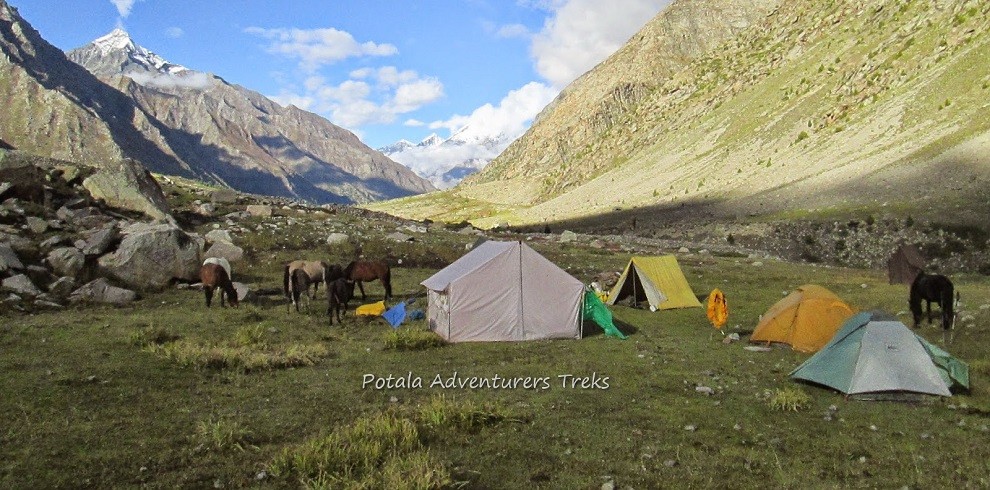 Day 4: Trek Kesar Yon Chhap (3,990 m / 13,090 ft). 10 km, 5-6 hours.
Leaving early Takdung Nala to be crossed this morning. After crossing an easy trail below the castle peak to Kesar Yon Chhap. Pimu nala and Pimu la can be seen across the Miyar nala. After lunch at Palphu, another stream coming from the Chhudong glacier is to be crossed. It's not so far from the campsite here. Crystal clear lake short before our wonderful campsite at the foot of Kang La glacier. For those who are interested in bouldering, there is a number of boulders suitable for rock climbers. The entire Miyar valley is a favorite grazing area and Shepherds can be seen all across the valley, who know many trails that are not yet marked on maps. Arriving at camp, relax and explore in around. Kesar Yon Chaap which means seven sacred waters at the snout of the Miyar glacier.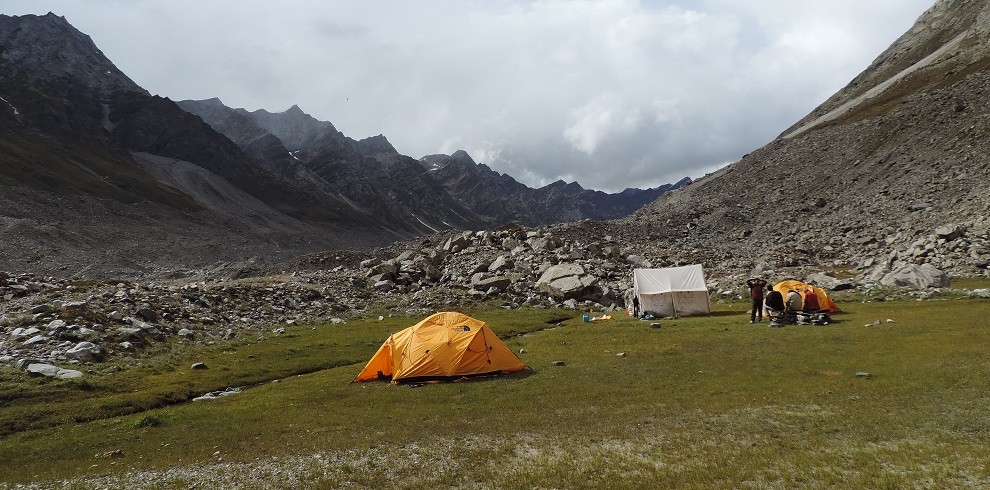 Day 5: Explore the Miyar glacier or Chhudong valley & Castle peak (4,600 m / 15,090 ft).
Today we explore this magnificent granite valley, which attracts so many climbers to Miyar valley. If your time is during August, September then it's the best time to see the blue poppy at full blossom. June, July is the best time to see wildflowers. We climb steeply up from base camp to the Chhudong glacier and near Castle Peak. From where all peaks of Miyar can be seen. Finally, descend to the campsite.
Day 6: Trek Gompa (3,900 m). 16 km, 7 to 8 hours.
Today gradual descent along the Miyar Nala over vast meadows carpeted with edelweiss and catmint. It is not rare to see Himalayan Griffins and Lammergeyers. There is lovely pasture all along the trek up to the campsite. Last stretch over a vast rocky moraine. Camp near the white stupa, where we camp. A long day today but thrilling. A suitable trail for horse riding, if you wish is wonderful to experience. Khanjar and Shukto are not so far from here for tomorrow. Taralasuma pass trail goes to the right from between Tharang and Gompa.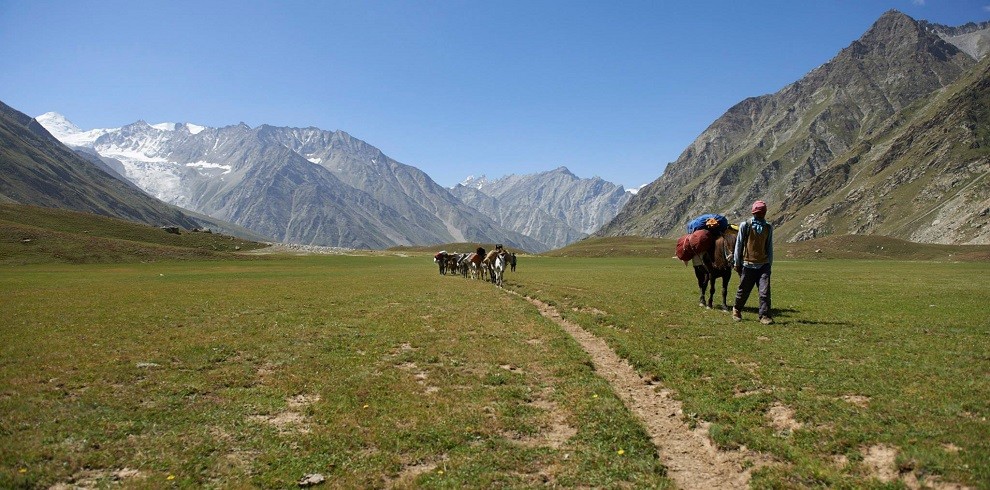 Day 7: Trek Shukto (3,470 m), 6 km, 4-5 Hours. Drive Manali (2,050 m). 137 km, 5-6 hour.
Leaving early from camp trek continues along the left bank of Miyar Nala to the village of Khanjar. The last village in the valley. At Khanjar bridge our vehicle will be waiting for us here. We drive to Udaipur and continue to Manali.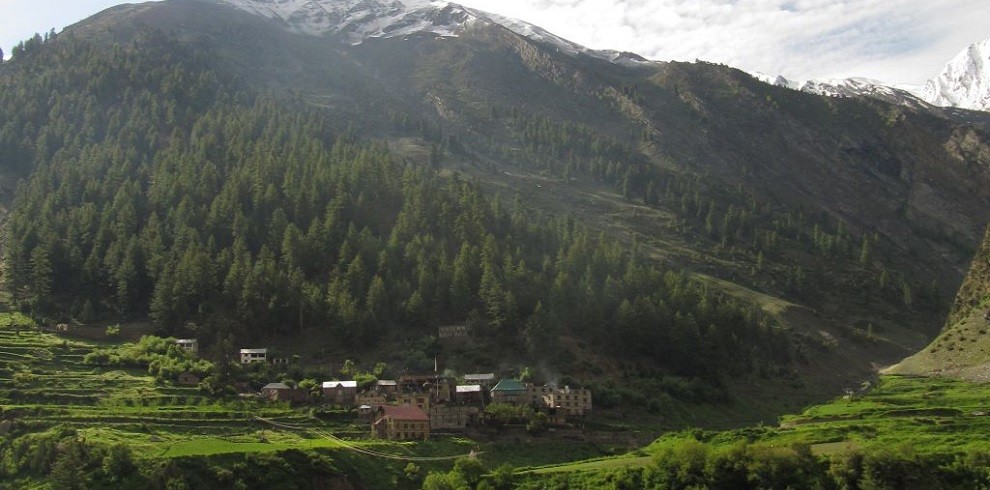 REVIEWS
Miyar Nala trek & Pangi valley trip 12 nights 13 days (Manali – Miyar Nala – Udaipur – Tindi – Darwas – Sural Bhatori – Saichu Nala – Tandi – Kyelang)
"Everything went according to plan until 3rd June when we changed itinerary from Urgos overnight to Udaipur. On 5th June we hoped to reach Saichu, but a rockfall on the road forced us to stay at Tindi. After that we had little time for Sural or Saichu Nala, staying only one night at each.
The general arrangements were very good. The vehicles were good and so were the drivers. Pemba was extremely careful as well as being helpful around camp.
We enjoyed the food; Tashi is an excellent cook and did Indian, European, and Chinese food equally well. The lunch sandwiches were very good until brown bread run out. We had lots of fresh fruits and vegetables. Tashi was very helpful and efficient in other camp tasks.
Overall: A wonderful experience. Staff was cheerful & tried their best when there was a lot of rain. Food was 5-star hotel qualities."
Mr. Tony G. & Mrs. Ann-Marie G. Ottawa, CANADA – 29 May – 10 June
"Perfect organization. Everything was spot on and on time, even by Swiss standards. Extraordinary food! Great cooks that make even bad weather a pleasure (Michelin 5* award). Thoroughly recommend Potala Adventures to anyone who is keen to have a good time in the mountains."
Manali mus pasitiko Prem iš Potala Adventurers. Jis mums suorganizavo vis? logistik? nuo oro uosto iki kaln? ir atgal. Užsak? arklius, vir?jus, nakvynes – viskas vyko labai sklandžiai ir už tikrai prieinam? kain? – REKOMENDUOJU!
Manali, we were greeted by Prem Potala Adventurers. He has arranged all the logistics from the airport to the mountain and back. Commissioned by the horses, cooks nights – everything was very smooth and the really affordable price – we recommend!
Gedas, Aras, Cyrill & Elias – Zurich, SWITZERLAND – 13 Aug to 13 Sept 2014
"Thanks to the help of Prem and Tenzin. We were able to Ski in the Tharang area in Miyar valley. Everything was well organized, and all the people were very realistic. We will choose them again. Thank you.
The Skiers from Switzerland."
Mr.Jonas, Lukas, Robi & Sandro, Switzerland – 6 to 27 May 2017
Trip Highlights
Valley of Flowers
Snow-clad peaks
High Alpine meadows carpeted with wildflowers
Meeting with Himalayan Gaddi Shepherds
Scenic Mountain Trail
Peaceful Campsites