Overview
Zanskar wild and remote trek is one of the least explored trekking routes and mythical journeys in the Indian Himalayas. With passes over 5000m that connects Sarchu to Photoksar. Zanskar grand traverse, Zanskar wild and remote or La grande Traversee du Zanskar is an updated Zanskar traverse known to the world as Darcha Lamayuru. Twenty-two days of walking in the heart of spectacular landscape and the complete crossing of Zanskar from South to North. Zanskari village remain cut off from the rest of the world for eight months. The inhabitants of Zanskarpa live in serenity and inner peace. 
Setting off from Leh after 2-3 days of well acclimatizing. We drive to Sarchu crossing the Taglang la 5268 m on Leh – Manali highway known as the 2nd highest mountain road in the world. We pass through high plains on the Rupshu Changthang to the wide valley of Sarchu., from where we cross the highest pass of our trek Phirtse la 5450m and descend to Lungnak River valley. Passing through villages and exploring the daily life of Zanskari to Phugtal gompa. Which is built under a huge cave. We continue to Shade one of the remotest village in Himalaya, a series of high passes, and a narrow gorge of Zangla before we visit Karsha and Padum. 
Our 2nd stage will take us through the Ladakh part after crossing Takti La, Final ascent to Sengge la to Photoksar where our trek ends, and return to Leh via visiting Lamayuru and Alchi sights.

ITINERARY
Day 1: Fly Delhi to Leh. Leh airport transfer & Check into hotel. Acclimatize.
Fly Delhi to Leh. Leh airport transfer & Check into hotel. Acclimatize 1, rest & relax. Evening explore a local bazaar.  
Day 2: At Leh – Acclimatize: Visit Leh palace – Tsemo gompa – Sankar – Shanti Stupa – Spituk – Leh.
Today after breakfast visit the Royal Palace of Leh from the 16th century, continue to Tsemo gompa, Sankar monastery, which adjoins the north Leh, and onward to Shanti Stupa, Finally end the day trip with Spituk gompa near the airport. Evening explore a local bazaar. Overnight in hotel.  
Day 3: Leh: Acclimatize. Visit Shey – Thiksey – Hemis – Matho – Stok – Leh.
After breakfast,  we drive to visit Shey first, then Thiksey. Thiksey monastery, which is 27 km from Hemis. This monastery is the oldest monastery of Gelugpa School in Ladakh. The great Lama Paldan Shesrap built it in the 14th century. Here you can see the big statue of the Future Buddha.  Continue to visit Hemis monastery which is 45 km far from Leh and it takes a 90-minute drive. The great Mahasiddha Staktsang Raspa along with great ancestor Singey Namgyal builds this biggest monastery in the 16th century. Continue to Matho then we drive to Stok which is situated opposite Leh at a distance of 14 km, At Stok visit to Royal Palace built in 1825 AD and the palace has great collections of antiquity. Continue to visit Matho situated 10 km from Stok, which has a 10th-century complex. Finally, we drive back to Leh.
Day 4: Leh to Taglang La – Sarchu (4100m), 8 – 9 hours.
Today leaving Leh, we drive on Leh – Manali highway. The Leh–Manali Highway is a highway in northern India connecting Leh in Ladakh in Jammu and Kashmir state and Manali in Himachal Pradesh. Open for only about four and a half months in a year in summer between May or June, when the snow is cleared by the Border Roads Organisation of the Indian army, and mid-October when snowfall again blocks the high passes. It connects Manali valley to Lahaul and Spiti valleys and Zanskar valley in Ladakh. It is a part of NH 21. The average elevation of the Leh-Manali highway is more than 4,000 m (13,000 feet and its highest elevation is 5,328 m (17,480 ft) at Taglang La mountain pass. It is flanked by mountain ranges on both sides featuring some stunning sand and rock natural formations. The highway crosses many small streams of ice-cold water from snow-capped mountains. Finally at the plains of Lingti as we approach Sarchu. 20 minutes short walk to the campsite of Sarchu at the junction of Lingti and Tsarap river.
Day 5: Trek to Berga Songchak (4400m) 6 hrs or Continue to Khamerup 4450m.
Today soon after the camp and after crossing of Tsarap River we climb gradually to a long plateau. After this the terrain becomes more and more barren, the landscape attaining fantastic forms and hues. Following upward on the right bank of Lingti Chu River arrive at the campsite of Berga Songchak. 
Day 6: Trek Chumik Marpo (4650m), 6-7 hrs.
We start early this day to cross Khamerup river. It will take us about 2 ½ hours to the broad river of Khamerup, Soon after crossing the river we walk on a large plain and finally enter a small valley leading to Chumik marpo. Again crossing of river which originates from Phirtse la and Serichun la. We follow the left bank of this river and ascend gradually to the campsite. Numbers of shepherds living in the area mainly from the Southern regions of Himachal who comes during summer times looking for high pasture land for their flocks of sheep and goats. At the end of Chumik marpo the doksa are summer settlements of Zanskari people can be found, with their yaks and dzo, making cheese. These Zanskari people often cross Phirtse la, we may have a chance to meet with them or walk together while crossing of pass next day.
Day 7: Trek Phirtse la (5450m) – Zingchen, 7-8 hrs.
An early start to avoid the snow turning softens the Phirtse la is advised.  Leaving campsite after half an hour we cross-grassy flat land, Gradually the trail becomes Steeper as it leads towards the (5'450m) high Phirtse-la. now after crossing a wide steep slope on a ride, descent to stream. we go up the opposite slope and reach Phirtse-la (5'450m). There is a steep descent on uneven ground with patches of ice and at the base of the slope. Now trail enters in the phirtse Chu valley, 2 hours walking in the valley arrive at the campsite of Zingchen. 
Day 8: Trek Tangze (4000m) – Table, 5-6 hrs.
Leaving Zingchen the path leads away from the river, gradually up the slope, the first view of the rocky escarpment. Further on a pass with cairn and pasture.  A spectacular view of Zanskar valley and arrive at the village of Tangze. Bypassing behind a rocky bridge follows a steep gorge. Cross a stream. Then we arrive at Tanze village, the monastery in ruins a bit higher up. Our campsite for tonight is further at short distance peaceful and comfortable campsite. 
Day 9: Day trip to Kye – Thangso – Shanka.
This day is to visit the high villages of Zanskar South and visit their home. Our horseman, our guide's home, and their relatives are from these 3 villages of Kye, Thangso, and Shanka. 

Day 10: Trek Kalbok – Tsethang 6-7 hrs.
Leaving Testa we pass small villages of Hal and then along the left bank of Tsarap River to Kalbok. There are frequent small canyons of pudding stones. Pass a bit above a hanging bridge, which leads to the village of Cha. 2 hours later reach Khedang, a small village in a poplar grove. Carry one until Kalbok teashop. Pass below the village of Surle. Finally, reach the beautiful campsite of Tsethang. 
Day 11: Trek Anmo – Cha – Phuktal.
Today leaving Tsetang we cross the hanging bridge below the Anmo village and we ascend to Anmo village and continue along the right bank of Tsarap river to Cha village. Another beautiful village with a great view. We continue now upstream of Tsarap Chu for a while and pass Khangsar village across the river. Finally, reach the crossing bridge and to a small plateau sprinkled with Chorten and religious banners. From here see the most spectacular sight in the Zanskar regions, Phuktal monastery which is built under a huge cave. Today is a short day of the walk, thus rest of the day you spend your time in the Phuktal monastery and visiting the prayer room and meeting with young monks and can also join their prayer meeting in the prayer hall.

Day 12: Trek Yatah (4000m). 6 hrs.
Today leaving Phuktal the trail winds up the steep slopes of the gorge along Tsarap. The trail has recently been repaired and is again a pleasant width. We stay in Yatah, with a small source of water.
The day can be very hot in this part as we are at the bottom of the valley at the river bed. So take enough water for this day. The most attractive view of the day will be the Tsarap river. Making its way to Zanskar with clear blue color. 
Day 13: Trek Shade (4300m). 7 hrs.
Leaving Yatah the trail continues along the river Tsarap on an old salt caravan route. Tsa is called salt and Rap is a shallow place to cross. On this route nomads who for centuries have transported salt from Tibet to Zanskar and traded there against barley. After one to two hours, we left the Tsarap and follow the small river Chu Shade. This can be crossed on a new bridge recently. Past the small hamlet Thantak we come to the village Shade. This village is one of the most isolated in Zanskar and for us one of the most beautiful villages in the whole Himalayas.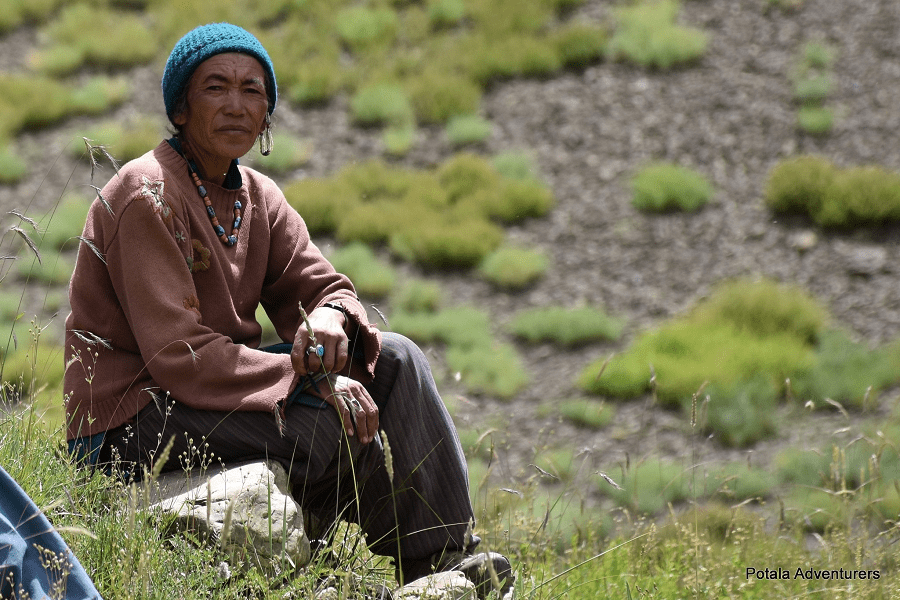 Day 14: At Shade
Today a rest day and wash your clothes or take a bath and we visit some of the homes in this village. 

Day 15: Trek to Lar (4300m) over Rotong La also called Gorteng la (4900m) – Lar La (4680m), 6-7 hrs.
Leaving Shade we climb a small hill to reach numbers of chortens, signs of Shade's importance as an ancient trade route. The valley on this side of Shade is colorful in shades of yellows, oranges, and reds, and we contour easily up to the Rotong La (4890m) except for one steep ridge, an ascent of three hours or less. From the crest of the pass, we look out to the craggy peaks, deep valleys, and oasis of green doksas that mark our exciting and remote route to Zangla. The descent is gradual, past Rotong Doksa (4470m). From the doksa the trail switchbacks down to Mitsik Doksa (4285m). The deep, willow-lined valley to our left leads to Niri Chu, which snakes through deep canyons below us. Jumping the river, or wading across, we climb past a large doksa on the plateau just above us and then start up the 400-meters to the Lar La (4690m), a steep grazing ridge that drops right down to the next valley. The valleys are now a dramatic combination of soaring cliff-walls, deep canyons and willow-filled river valleys, lovely. We'll set up camp in this second valley, another grazing settlement called Lar with a small stream running down the center. 
Day 16: Trek Yarumchun (4430m). 7 hrs.
Leaving Lar today is an adventurous and beautiful river day. Soon after camp we cross the stream and ascend a small pass and continue along the left bank of the river and reach a Niri sumdo. From here we cross numbers of times the river, usually a water level below the knee. But the rivers get high in the afternoon. We call this valley a Snow leopard valley as we have spotted the footprints in this valley. You may see wild animals coming to drink water in river beds during the daytime mostly blue sheep and ibex. Finally, we arrive at a sumdo from where the right trail goes from Shapodak la to Ruphu Kharnak. We take the left valley to our beautiful campsite of Yarumchan.
Day 17: Trek Pandang la also called Ningri la (5175m) – Zangla Sumdo (3900m).
Today we have to cross another pass, we start with a gradual climb to a grassy doksa about an hour away up the hillside and finally an easy half an hour to the pass of Pandang La 5175 meter. This pass is also called Ningri la. From the pass, Zanskar mountain panorama is breathtaking and magnificent. Now walking to the right side of the steep ravine which will drop down below us. Wild animals roam the hillside, so with our eyes open to all around. We now walk over the green plateau and ahead filled with willow trees. Coming out from the willows which hide our campsite, we now descend gradually for half an hour. We descend steeply on a trail of loose scree and rocks which ends down at the Zumlung Chu below. We have to cross the river and make our way through the underbrush to join the trail to Zangla. The route is known by the village from Tsazar just south of Zangla who use the valley as summer pastures. At the next sumdo the trail widens and we trek through a batch of sea buckthorn bushes. The next two hours of hiking are easy, crossing the river many times in a magical valley that narrows as we head south, following the Zumlung Chu. Finally to our campsite of Zangla Sumdo. 
Day 18: Trek Zangla – Zangla river camp (3600m).
Today leaving the Zangla sumdo, our trail leads through colorful gorges. We have to cross the river again so prepare your sandals for river crossing to reach Zanga. We pass the large sumdo where to the left the trail leads to jumlam and Charchar la an ancient and old trade route leading into Zanskar from Leh. The Jumlam route is mostly inactive when the flow of the river at its lowest volume. We continue to trek along with Zumlung Chu, which we cross many times, finally reaching at Zangla Doksa and continue along the Zangla irrigation ditch while ascending to Zangla fort. The magnificent Zangla fort home to the kings of Zangla. We do not descend to the village. Zanskar plain lies below us. We continue down to riverside to our camp 
Day 19: Day excursion to Thongde – Karsha – Padum.
We take this day to restock our supplies and buy fresh vegetables from the Padum market. While the crew and chef will be busy at the bazaar you explore and visit the Karsha, one of the largest monasteries in Zanskar, or even if you wish you may have a chance to visit the Dzonkhul monastery. Explore Padum and lunch here. Finally, visit the Thongde gompa on our way back to camp.   
Day 20: Trek to Kurmafu (3700m) over Namtse La (4500m).
Today leaving camp at Zangla, we walk along the Zanskar river to Honya for an hour. We change our position to our right that leads to Khurmafu. We ascend steeply through a gorge. After three-four hours of ascending into through a narrow valley by following a small stream, we reach Namtse La (4500m). Now trail follows a willow tree for an hour. After trekking through these willows we climb a small top and see our campsite below us. A clear path brings us to a Kurmafu. 
Day 21: Trek to valley camp (3980m).
Today leaving kurmafu, starting with crossing the small stream and on a plateau, today is a short walk and full of excitement. After the plateau just above the willow, we arrive at a junction of a small stream. After climbing on stone steps and then we drop down to the river and fording it to reach a high, exposed trail on the right which continues to the next bend in the river. One more climb and we reach an ice bridge usually through a narrow canyon with ankle-deep water. Now for again an hour of walk through willow and finally to our campsite. 
Day 22: Trek to Nyerak (3710m) over Takti La (4950m).
Today leaving our camp early morning to cross Takti La with a climb of over a thousand meters. We at first make our way on the small trail through, crossing streams and then to narrow valley to the right. Now here we climb for an hour a steep ascent. After our first small pass at 4580m, after keeping the eye on Takti La ahead us, with a glacial stream than the steep ascent to Takti La (4950m). From here we will have a great view of our next pass of Sengge La that we will cross incoming next days. The Himalayan range to the south and Ladakh range to our north. After having lunch at the pass we now descend to Nyerak. We descend on a good path along the old irrigation wall. Lastly to our campsite at Nyerak. Later having snacks at camp, you may go and take a look inside the village and its life. 
Day 23: Trek to Yulchung (3900m).
Today leaving our fantastic camp at Nyerak, we continue to our next stage to yet another significant place of our trek. Leaving nyerak and crossing the Zanskar River, we descend along the old mani walls and to a wooden bridge at the Zanskar gorge. We pass Chochokhuri La (3865m) and then around several hillsides and the last contour leads to a small ridge from where we finally see Yulchung across the valley. The isolated village of Yulchung meaning small Kingdom is a remote and traditional village. We stay to the left and contour around the village, by finally reaching our camp at the end of the village. Our next day trip from this camp is clearly visible, that is crossing to Sengge La pass. 
Day 24: Trek to Sengge-la ( 4950m) – Base camp.
We follow the small trail that leads north out of the village, ascending through a pasture. Now climbing steeply into the canyon to Sengge la. Sengge means in Tibetan is Lion. The campsite is a short descent from the pass.  
Day 25: Trek to Bumitse la – Photoksar ( 4400m).
Today easy and gradual descent on a clear path and finally after crossing the Bumitse la, the spectacular view of village Photoksar appears at sudden, surrounded with mountains and gorge. 
Day 26: Drive to Lamayuru (3750m) – Alchi – Leh.
A magnificent drive to Sirsir La, Wanla, and further to Lamayuru, en route to Leh you will visit an ancient village and monastery of Alchi. Finally arrive at Leh and check into hotel. 
Day 27: At Leh 
Day 28: Fly Leh – New Delhi and overnight flight back home.
Early morning flight to Delhi, arrive Delhi and transfer to hotel for few hours before midnight flight back to home. Or based on your flight departure – proceed to your next destination.

REVIEWS
La Grande Traversee Du Zanskar – Zanskar Wild & Remote Trek
"5* – Excellent – A VERY SPECIAL EXPERIENCE! We did this trek in summer 2017 – it was a very special experience. As promised, the route was really wild & remote. Overall I can say that the trip was very well organised, we had a very competent guide (Sherab) and an excellent cook (Indra). The trek is physically quite demanding, but the experience is well worth it. Especially the river crossings I remember very well. Bring a large brimmed hat and wear long-sleeve shirts. The air is very dry, it took us some time to adapt to it.
Some other impressions:
Very good hotel in Leh (quiet location, large room).
Excellent & diverse food – even after many days of walking without the chance of re-supplying (amazing what Indra could do on the gasoline cookers). Very helpful & friendly team. Our families at home we notified via e-mail about our location & condition. Sherab used the satellite phones in the villages to talk to Prem. Sherab knew many people along the route and we were often invited into the houses. We saw among others, blue sheep and ibex. There were fresh tracks of bear and snow leopard. "
Mr. Rene – Switzerland
"Salut Prem – Nous avons tardé à te répondre, enfin nous te donnons des nouvelles. Pour nous tout va bien, le retour s'était bien passé et nous avons encore pleins de souvenirs dans nos têtes. Encore mille mercis pour ce beau trek! C'était formidable, plein de magnifiques paysages et de très belles rencontres!"
Mr. Marc, Mrs. Catherine & family – FRANCE – 1 to 31 Aug 2016
Trip Highlights
Spectacular drive through 2nd highest mountain road
Stunning sites and Camps in peaceful locations
Remote villages and its adventurous trail
meeting with locals
Ancient fort and trekking in remote areas.