The Parang La is a high mountain pass located between Spiti and Ladakh. The Parang la trekking route follows an ancient, historical and traditional trade route once was between Spiti, Changthang & Tibet. it's 8 days trekking from Dumla near Kibber. The route crosses the upper reaches of the Pare Chu and continues to Lake Tsomoriri in Ladakh. The Parang La at an altitude of 5570 m. To the south of the pass, there are fewer snowfields. To the north is a long glacier crossing. To the Northwest there is Takling La, which is nowadays used less by trekkers, mostly takes the Parang La route. Opened to tourists in 1994, Potala Adventurers took the first Parang La trek in 1996, Kibber – Kiangdam – Pang trek. Since then we have organized numerous treks in this region, some of which were includes also the climb of Chamser – Lungser Kangri. To add more adventure to this trip, a Mentok Kangri climb is an option.
Overview
Setting off from Dumla near Kibber (4250m), Kibber meadows is a breeding ground for famous Spiti horses and also the home of elegant Snow Leopard. The route goes to Parilungbi gorge. Stepping over the Thaltak meadows, moraine stretches, crevasses, and glaciers, climb to the high mountain pass of Parang La (5570m). The source of Pare Chu River. Following the Pare Chu, which flows towards South into the Tibet frontier near Chumar village and again enters in Spiti valley,
There are no people on the whole route unless you meet a few Changpa nomads near the Lake at Kiangdam. Today most nomadic herdsmen live between the valley near Thelakong la, Lanyar area. A vast valley that goes from near Kiangdam. It is a high-altitude trek, the route remains above 4400m most of the time. Thus proper acclimatization at Kaza or Kibber is essential for doing this trek. The other challenging and significant problem can be the crossing of multiple mountain streams, which can be very cold during bad weather. It is therefore essential to have good sandals. The last two campsites location are the best in the entire trek. The rewarding point is at the end of the trek when you reach deep blue turquoise Tsomoriri at the Kiangdam, southern shore of Tso-Moriri. Kiangdam is named after Kiang (Tibetan wild ass) which roams in this area. Tsomoriri is also a breeding ground for the black-necked crane, bar-headed geese, Brahminy ducks. Arriving at Korzok trail goes to the large changpa settlement at Korzok Phu and ascends to Yalung Nyau la, another high pass of this trek. Soon a series of passes and passing & meeting with Changa nomads we finish our trek at Pongunagu near Tsokar. Finally short drive to join Leh – Manali highway at Debring and to Taglang la, then along the Indus river to Leh.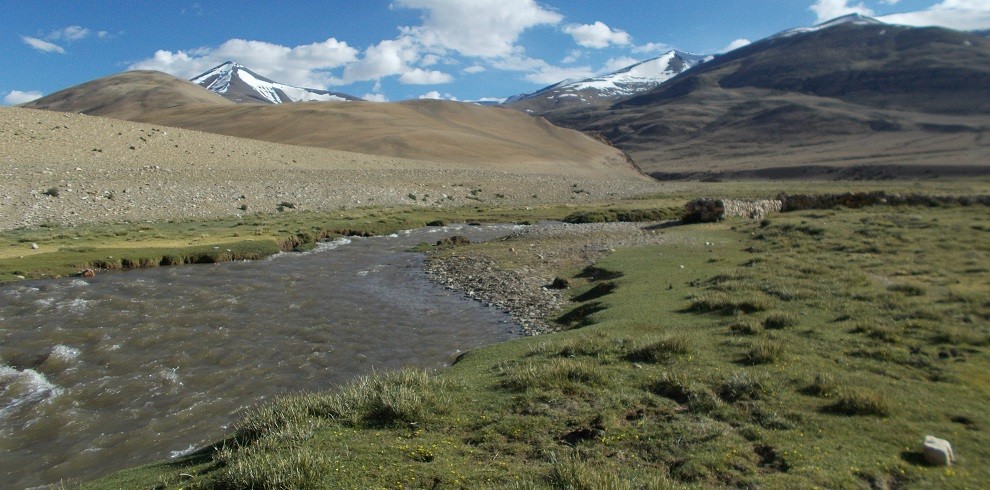 ITINERARY
Day 1:  Arrive in New Delhi, New Delhi to Chandigarh – Manali by private car.
Arrive at Delhi or Chandigarh airport. Pick up and drive to Manali. Arrive at Manali, check into the hotel.
Day 2: At Manali – Rest & relax
At Manali: Visit local sights ie Hadimba temple, Manu temple, Vashisht hot spring, Tibetan monastery, and explore Manali Bazar.
Day 3: Drive to Atal Tunnel Rohtang  – Kunzom la (4551m) – Kaza (3600m), 8-9 hrs.
Today an early departure from Manali, Overland journey by jeep over Atal Tunnel Rohtang, which is the gateway to Lahoul –Spiti, Pangi, and Zanskar passing through Chandra Valley, en route having a magnificent view of the snow-capped mountain of C.B. Ranges and Bara Shigri Glacier. These ranges are part of the Pir Panjal range of the lower Himalayas. Passing through Kunzum –la (4551m) we arrive at the first village of Spiti called Losar (4'000m). By the evening arrival at Kaza. Kaza is a beautiful place and sub-headquarter of the Spiti region.
Day 4: At Kaza: Acclimatize
Today explore the local Bazar at Kaza town. or visit Dankhar, Lalung, and Pin valley.
Day 5: Kaza – Langza (4435m): Acclimatize
Langza is situated at an altitude of 14500ft and below the beautiful Chau Chau Kang Nilda peak. You will stay overnight at homestay. Explore and village and a short walk in around.
Day 6: Drive to Kee – Kibber (4,205m) – Dumla, Trek to Thaltak (4550m).
Today leaving Kaza short drive to Kee 6 -7 km. Visit the monastery and continue to drive to Kibber and further to Chichim – Dumla. Dumla is short after Pari Lungbi gorge. Setting off from here first short descent to Dumla through fields of Barley than gradual ascent arrival on a ridge, from where a splendid and spectacular view of Shilla Peak 6303m. to southeast half an hour down to the campsite of Thaltak.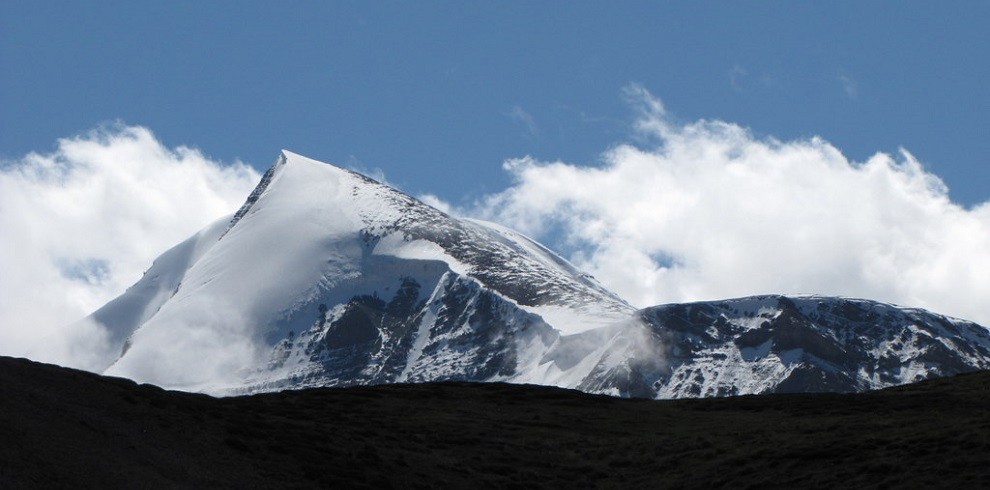 Day 7: Trek to Jugtak / South base camp 4850m. 6 – 7 hrs.
Now, the trail descends 400 meters. Down to Parilungla Chu. Cross the river, Climb to saghthag over moraine stretch. Further gradual and exhausting climb to reach the glaciated valley, one to the north and one to the south. Follow the moraine stretch towards the north and then arrive at the campsite of Jugthag at an altitude of 4850m
Day 8: Trek to Parang la (5570 m) Kharsa gongma (4800 m). 7 – 8 hrs
An eventful day for those who have never climbed this height Before. From camp climb up gradually to Parangla on patches of snow panoramic views of Peaks of Ladakh, Lahoul and Spiti for below in the NW you can see the Pare chu which original from this pass. 4 km. Descend through crevasses and glaciers then cross the Pare chu. Following the left side of the river arrive at the campsite of Karsha Gongma.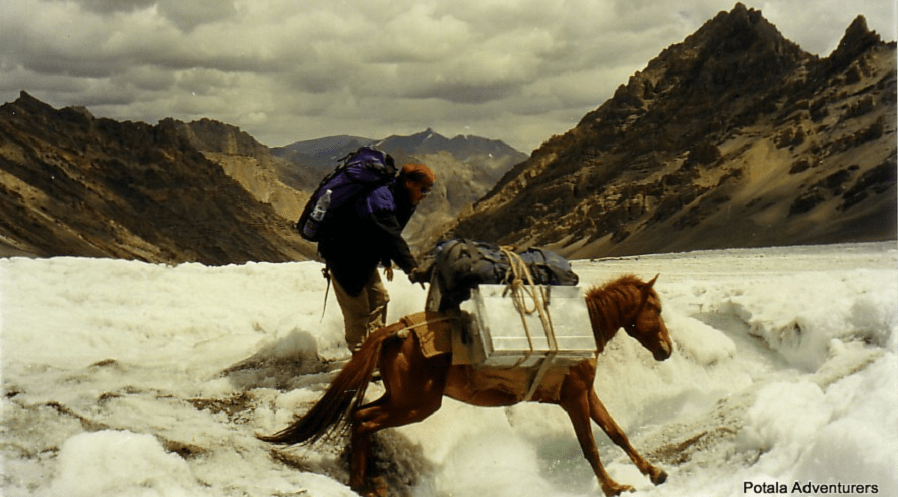 Day 9: Trek to Dokpo Phirtse (4700m). 6-7 hrs.
Today we cross the river close to the campsite and follow the right bank of Pare Chu. Now the valley becomes broad. Sometimes on the riverbed or above the river, the trail goes to the campsite of Dokpo Phirtse. 60 km stretch through Kharas, Dokpo phirtse, Dakar, Kuru, and Thaktote, which are places where Changpas stays during summertime. Gentle and easy walking along with the Pare Chu. Small tributaries to be cross before arriving at the Dokpo Phirtse campsite.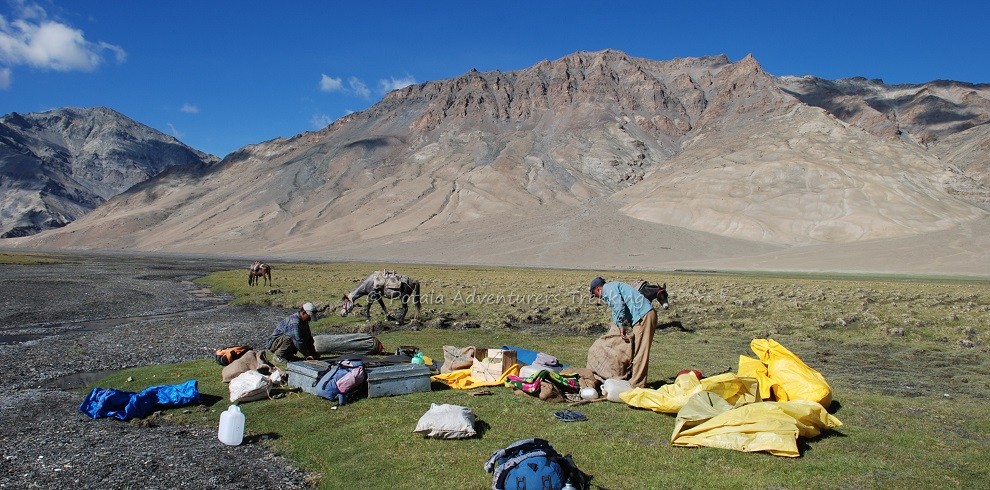 Day 10: Trek to Umlung (4515 m). 6-7 hrs.
Today again easy walking along the right bank of Pare-chu. Now the valley becomes wide as you follow the Pare-chu. At different places, you come across Patches of grass at nomad's summer place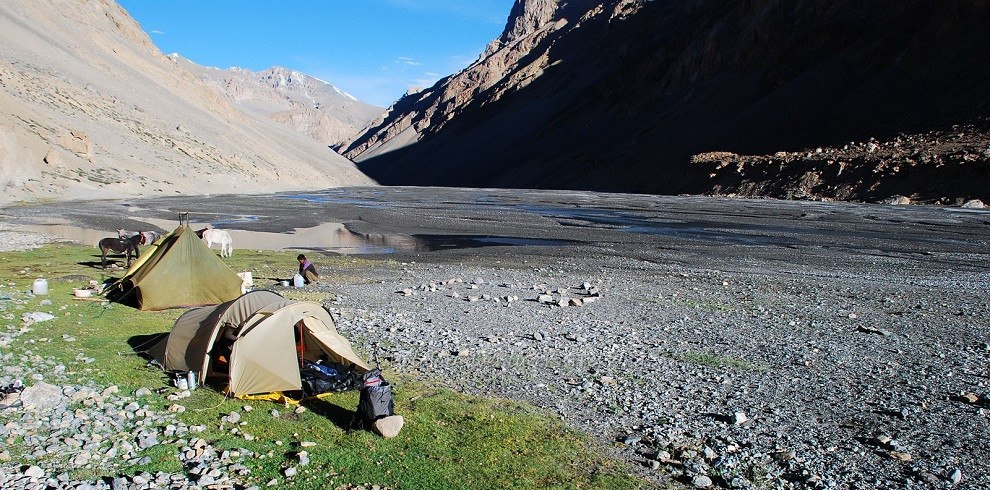 Day 11: Trek to Norbu sumdo (4300 m). 7 hrs.
A short stretch along the right bank until arriving at a place where a stream joins with pare-chu. The trail goes further to chumar village in Tibet. Pare- chu river to be cross at this point and trek up to right and valley. Walk towards the right-hand valley. As you trek upwards the landscape changes from dusty plain to green pasture ground. Here you will be welcomed by Changpas. (Tibetan nomads) Overnight camp at Norbu Sumdo.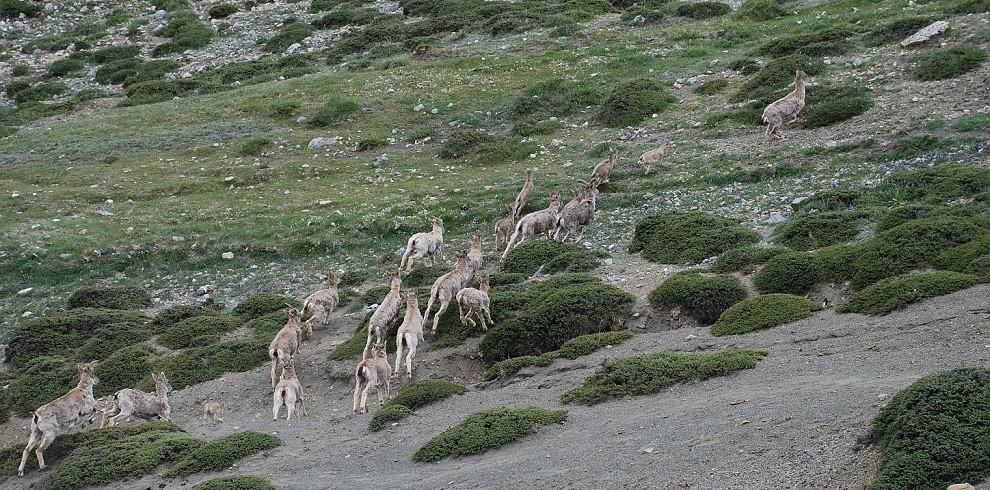 Day 12: Trek to Kyangdam (4573 m). 6-7 hrs.
A wonderful and exciting day of trekking tour, here landscape changes dramatically. Walking through pasture and sandy patches the valley becomes broader and broader. Walking through Chumik Shilde and crossing stream finally arrive at Tso-moriri Lake. The lake is 24 km in length and 6 km wide. Changpas can be seen with their flocks of sheep, goats, and yaks near the lake. Kyang, birds like a bar-headed goose, migratory birds black-necked ducks are also found around the lake.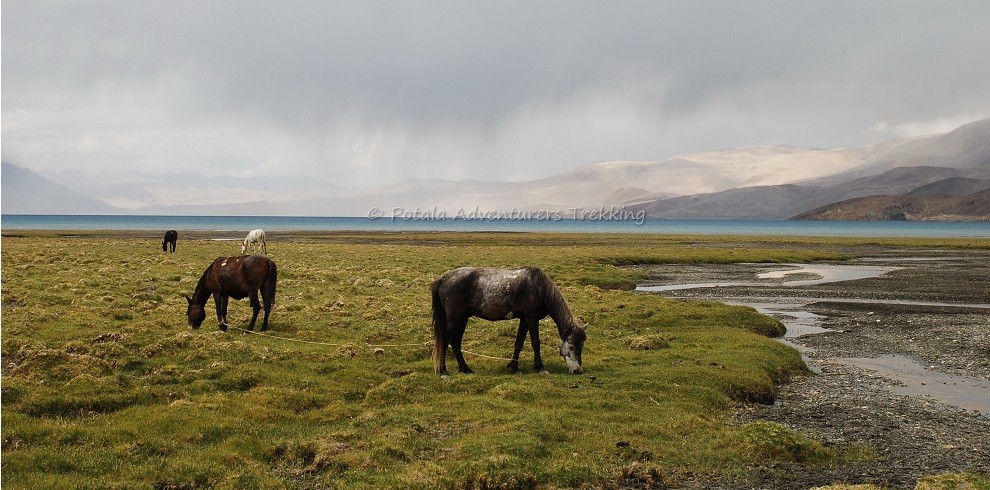 Day 13: Trek to Korzok 4600m, 7 hrs.
Today after breakfast leaving Kyangdam behind we trek to Korzog along the banks of Tsomoriri Lake. Yet it providing a pleasant walk on the shore of the lake as well as Chamser and Lungser Kangri peaks remain in sight up to Korzok. Karzok is high altitude village, situated on the west banks of Lake Tsomoriri, inhabitants of Karzok also known as Changpa. Arriving at Korzog we camp at the Phirtse phu river.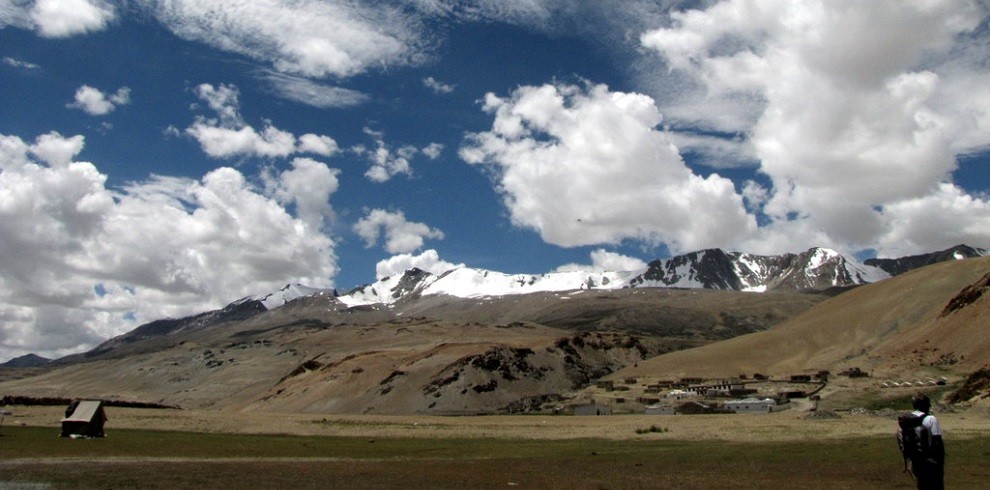 Day 14: Trek to Yalung Nyau la (5440m) – Kyama (5170m), 7-8 hrs.
We trek past many large nomadic encampments over Gyam Sharma La to Kyama.
Day 15: Trek to Kortse La (5380m) – Kyamayuri la (5430m) – Rachungkaru (4940m), 7-8 hrs.
Today leaving camp we first cross Kortse la and next to the Kyamamuri La to Rajung Karu.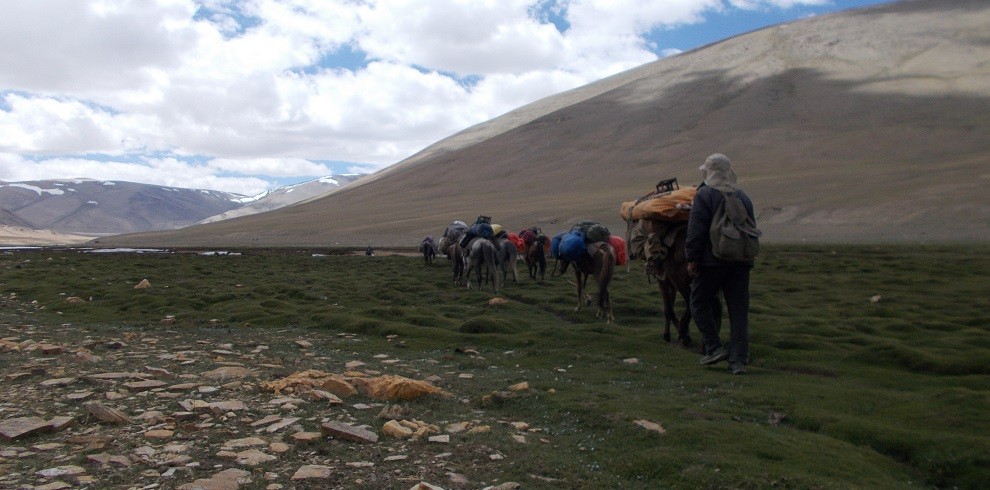 Day 16: Trek to Horlam Kongka la (4900m) – Nuruchan (4650m), 6 hrs.
At first trek over the low ridge of Harlam Konka to the small village and Gompa of Nuruchang. Then the trail goes over a small pass that takes you to Nuruchan. This area is principally inhabited by nomadic people with their yaks, sheep, and pashmina goat. We are close to Tsokar Lake.
Day 17: Trek to Pongunagu (4580m) / Tsokar Lake 5 hrs.
Today trek along with the Tso Kar and another best place of our trek. We camp at Pongunagu. Afternoon visit Thugje gompa located nearby.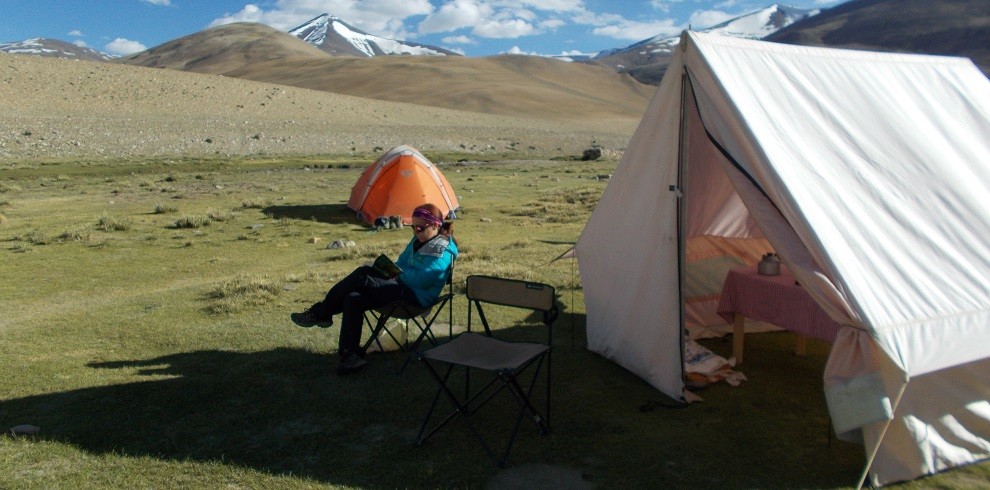 Day 18: Pongunagu to Taglang La (5328m) – Leh (3600m) , 7 – 8 hrs.
Walking through a gorge, the challenge of the day is when the river has to be crossed twice. At Rumtse, a vehicle will pick us up here and finally drive to Leh.
Day 19: At Leh
Rest and relax at Leh and explore Leh Bazar.
Day 20: Morning flight Leh to Delhi and onward flight back to home.
Leh to airport drop and onboard morning flight Leh – Delhi and onward flight back to home.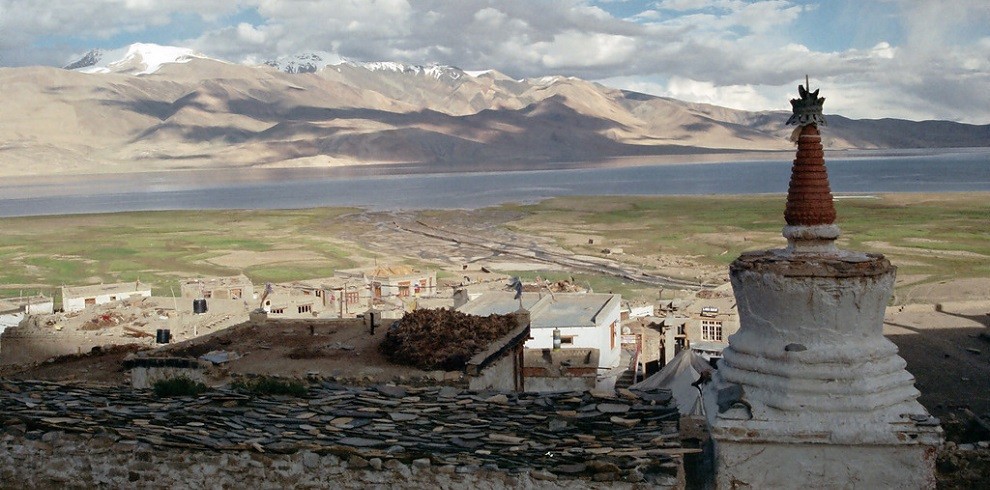 Trip Highlights
Ancient trade route & high-altitude trek
High passes & high Lakes of Ladakh
Trekking in Changthang region of Ladakh
Meeting with Changpa nomads of Ladakh
Turquoise Lake of Tsomoriri