Overview
The magnificent Stok Kangri 6153 meters situated on the southern skyline of Leh. Widely seen from Leh and nearby is an ideal peak for those seeking their first trekking peak at 6000 meters in the Indian Himalayas. Declared an open trekking peak by Indian mountaineering foundations. Anyone physically fit can find this Stok Kangri like a dream experience come true. From the summit stunning views of Karakoram range, Ladakh range, and Zanskar range. During clear sky, K2 even can be seen at a far distance.
Markha Valley is one of the most famous treks of the Ladakh Region. It is an amazing trip to get introduced to the magical and remote Buddhist Kingdom of Ladakh. High altitude pastures of Nimaling and finally Kang Yatse dominate the Markha valley. Markha valley remains one of the most popular trekking routes in the Indian Himalayas. Markha valley has a very significant role in the Ladakh environment and its ecology. first Hemis high altitude national park which is named after the great monastery of Hemis was created in 1981, the first national park in North of the main Himalaya range, and second this park known as Snow Leopard conservancy, India's best-protected area for Snow leopard. We will discover how local people have been fully committed to conserving Snow leopard. This trek offers an abundant treasure of natural beauty, mountains with different colors, shapes, and sizes. With altitude exceeding 3000m to 6000m and its numerous small villages along the trails, pastures, and passes. The valley is greatly dominated by Kangyatse(6400m) and its surrounding peaks. Among them are the most popular trekking peaks is Stok- Kangri (6153m), no doubt the first true Indian Himalaya 6000m trekking peak. However, there are great chances to observe wild species in the late afternoon and early morning.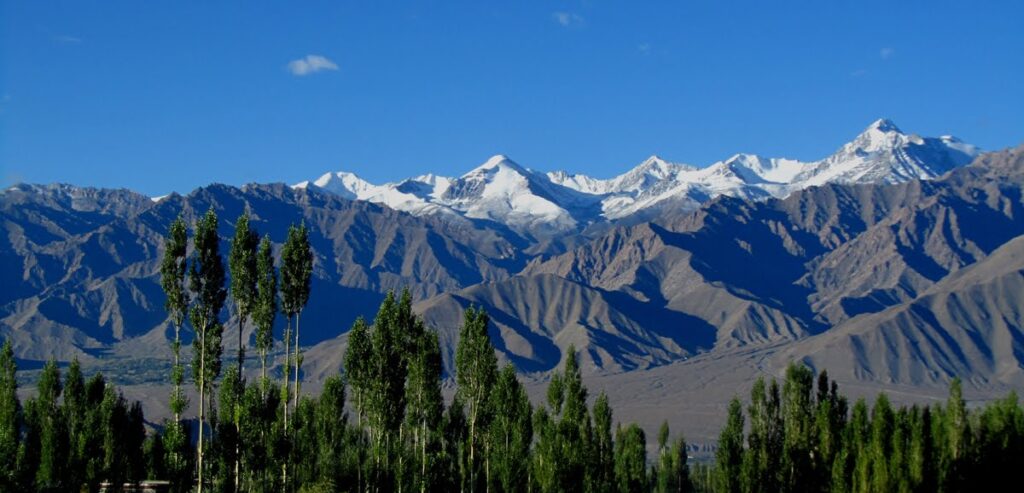 ITINERARY
Day 1: Arrive Leh (3500m) Acclimatize
Today morning early transfer or drive to domestic airport for the flight to Leh, but spectacular flight over the Himalaya to Leh. The rest of the day is free to relax and acclimatize to the altitude of 3500m as well as visit Leh bazaar. visit the Royal Palace of Leh from the 16th century, continue through the fields of Sankar monastery , which is adjoins the north Leh. Finally end with climb to the Shanti Stupa. Overnight in hotel.
Day 2: Acclimatize: Visit Shey – Thiksey – Hemis – Matho – Spituk
After breakfast, we drive to visit Shey first, than Thiksey. Thiksey monastery, which is 27 km from Hemis. This monastery is the oldest monastery of Gelugpa School in Ladakh. The great Lama Paldan Shesrap built it in 14th century. Here you can see the big statue of the Future Buddha. Continue to Taktok and Chemdey and return back to visit Hemis monastery which is 45 km far from Leh and it takes 90 minute drive. The great Mahasiddha Staktsang Raspa along with great ancestor Singey Namgyal builds this biggest monastery in 16th century. Continue to Matho than we drive to Spituk and back to hotel in Leh
Day 3: Drive to Khardung La (5380m) and return to Leh
Today, we further our acclimatization with a jeep drive up to the 5380 metre Khardung La, one of the world's highest road passes. This high pass in the mountains to the north of Leh leads into the Nubra Valley, which has until recently been closed to foreign visitors. The 2000 metre climb to the pass provides panoramic views of the Zanskar Range beyond the Indus Valley, with Stok Kangri standing out prominently as one of the higher peaks in the range. At the pass itself, there are views of the little-known peaks of the Eastern Karakoram. After taking tea at the pass, gasping in the thin atmosphere, we return to our hotel in Leh.
Day 4: Drive Leh Chilliing, Trek Skiu (3290m)
Today you drive Leh – Srinagar highway, along the Indus River. Leaving behind highway at Nimo, we enter in awesome Zanskar River valley. Continue drive along the road as far as to Chilling. Cross the Zanskar river by cable car and trek to Skiu.
Day 5: Trek to Markha (3710m), 6 -7 hrs.
Leaving Skiu today we will have long, easy and pleasant walk up the Markha valley. We hike along the Markha River and cross numerous adjoining stream. The trail passes through willows, poplar trees and sea buckthorn bushes. Passing by Chaluk, last river to be cross before Markha. Markha is a wonderful village which has charming campsite and deserted fort can be seen from camp,Overnight camp.
Day 6: Trek to Hankar (3900m) – Thachungtse (4200m), 5 hrs.
Leaving Markha today you cross the river several times. We follow the clear path along the right bank and pass beneath the Humlung monastery. Few hours later arrival at high village of Hankar, continue on the track leaving the broad valley and turning towards narrow valley. As the trail goes higher and higher up the landscape presents spectacular scenes. Lastly crossing the bridge and continue to higher meadows of Thachungtse.Overnight in camp.
Day 7: Trek to Nimaling (4747m) 5 hrs.
Today trek starts on an easily seen good path. Easy trail at start then gradual ascend with several small inclines and over meadows. Now you are trekking through one of the most beautiful high valleys in Ladakh. Soon after the view of Kang Gyatse peak remain on our site while trekking. Kang Gyatse peak dominate the Markha valley. During summer numbers of sheperds lives in small doksas looking after their sheep, yak, dzo, horse and goat. Continue trek across the vast and grassy plains of Nimaling and having 360° view of impressive landscape.Overnight in camp.
Day 8: Trek to Kongmaru La (5150m) – Chuskirmo.
Today leaving Nimaling, continue on path where small stream to cross then gradual climb to the top of the highest pass of our trek, with its wonderful views from the top as far as eye goes to all directions. On a clear sky one can see Kangyatse, far across K2 and Karakoram Range and its peak rising above 7000m. Soon after crossing the pass steep and long descent to Chuskirmo.
Day 9: Trek across the Gyuncho La (4600m) to Shang Po (4350m)
From Chuskyurmo, we turn towards the west into a tributary valley that leads after a long and gradual ascent to the Gyuncho La at 4600 metres. Descending from the pass, we make camp at Shang Po at an altitude of 4350 metres.
Day 10: Trek across the Shang La (4800m) to Gangpoche (4320m)
This part of our route traverses an area rarely visited and involves the crossing of many spurs and minor passes with occasional views northwards towards the Indus Valley and the peaks beyond. Today we climb to cross the Shang La (4800m) and then descend to the Tokpo River for lunch. After lunch we trek generally downhill to our camping place at Gangpoche (4320m).
Day 11: Trek across the Matho La (4860m) to Smankarmo (4380m)
Again we have a steady climb in the morning, this time up to the Mato La (4860m) and then we descend into the valley to the north of Stok Village. This lovely valley is a high and wild area which is visited only by climbing groups and by the local people who spend some of the summer months in picturesque villages of stone huts, from where they tend their flocks of sheep and goats. We camp close by some shepherds huts at Smankarmo (4380m).
Day 12: Trek Base camp (4900 m)
We have just a short trek this morning to reach the basecamp area for Stok Kangri at an altitude of 4900 metres. The very pleasant campsite is on a grassy area beside a number of meltwater streams. In the afternoon we can walk above our camp for views of the surrounding peaks; Stok Kangri, Parchu Kangri and many others. The rest of the day is free for resting or to make final preparations for the climb.
Day 13: Ascent Stok Kangri (6153 m)
Today an early start to climb to summit. From basecamp the trail climbs over a ridge the follows the glacier at first and finally across rubble covered ice to the lower slopes of the mountain. This peak does not require any technical mountaineering capability. Our route initially crosses scree and boulder slopes and then leads to easy angled snow slopes which require ice axe, rope and crampons. The route is not difficult but at this altitude it will be strenuous. From the summit of Stok Kangri (6153m), we could see as far as the Karakoram ranges, Lartse peak and Gelup Kangri and of course Leh city. Retrace your step way back to base-camp.
Day 14: Trek Stok, 5 hrs, drive Leh
Keeping on the left bank of the Stok Nallah, the trail descends, going past the jagged ruins of the Staklang Kar fort. At its base is a thick grove of willow. The trail is well worn, being used for the summer movement of cattle and sheep to the higher pastures. The small gorge opens on to an alluvial plain. The trail through apricot orchards and barley fields, ending at the village of Stok and the Ladakh Sarai. There should be time to visit Stok Palace and Museum while we wait for our jeep. Then an hour drive to Leh, and overnight stay at hotel
Day 15: Morning flight to Delhi and evening flight to home town
Early morning drive to airport and flight to Delhi and onwards flight to home.
Trip Highlights
Explore Leh, the Indus Valley, and its Buddhist monasteries, One of the top five treks and climb holidays in India
Ladakh trekking peak, Pre-summit superb acclimatization trek
Indus valley sight-seeing
Rumbak valley the snow leopard home, Hemis high altitude park
View of Ladakh & Karakoram range