Overview
Spiti valley is located on the Tibetan border enclosed on the South East by Tibet, North West by Ladakh, and West by Lahaul and Kullu. Geologically and archeologically Spiti valley is a living museum. Spiti valley is high altitude cold desert and in its lunar landscapes are still stretches, where every other rock is fossils. Spiti valley is formed by the Spiti River, which rises on the slopes of Kunzom La (4'551 m) and ends at the river confluence with Pare-Chu near Sumdo. The length of the valley is about 150km. En route, the Spiti River receives the water of many streams: Guindi Nala, Parilungbi Chu, Pin River, and Lingti River. There are two routes to Spiti valley, one over Rohtang La (3'978m/13'050ft) and Kunzom La and the other via Shimla, Rampur, and Kinnaur.
Spiti was once a part of the West-Tibetan Kingdom of Guge in the early 17th century. Guge became fragmented and Spiti, along with Lahoul, came under Ladakhi rule. A vital link of the Great Trans Himalayan trade route from Lhasa to Kashmir and Spiti – Literally "The middle country" – found itself locked between the mountain range and the International border, now a part of the Himalayan tribal sub-division of Lahaul and Spiti district of Himachal Pradesh.
Today more and more travelers, tourists, trekkers, geologists, and researchers are discovering this wonderful and last inhabitable world.

ITINERARY
Day 1: Manali – Atal Tunnel Rohtang (3100 m) – Kunzum la (4550m) – Losar (4100 m) – Pangmo (3900 m) – Rangrik – Kaza (3600m). 183 km
An early departure from Manali, we drive to Solang, Dhundi to Atal Tunnel Rohtang to Lahaul & Spiti district of Himachal Pradesh. Along the Chandra River to Gramphu. Series of the rugged paths lead towards Chatru, Chota Dara, Batal. We drive along the left banks of Chandra River and about 14km to Chatru then on the right bank of Chandra River to Batal. Now road climbs to Kunzom la pass and enters Spiti valley. We arrive at Losar the most picturesque village in Spiti valley at an altitude of 4100m. After Kiato we take the road along the Spiti River, passing through the beautiful hamlets of Pangmo, Hal to Rangrik. Continue to Kaza for an overnight stay.
Day 2: Kaza – Lalung (3800m) – Dankhar (3850m) – Tabo (3300m) – Mudh (3820 m) Pin Valley.
Today leaving Kaza visit Lalung, Dankhar, and Tabo. En-route visiting Sherkhang monastery at Lalung and continue towards Dankhar monastery (3980m.) located on top of a small hill is 25 km. From Tabo. Dankhar the traditional capital of the Spiti kingdom, however, Dankhar's main attraction is a natural lake situated 2.5 km. above the village. Leaving Dankhar towards Tabo. Arriving Tabo (3050m.), which is the biggest monastic complex in Spiti, has since been declared as a protected monument under the control of the Archeological Survey of India. Built-in 996 A.D., by Rinchen Tsangpo, Tabo is known as; Ajanta of Himalayas. A visit in Tabo gompa & a short hike to Tabo caves and drive to Pin valley. Pin valley is a national park known as the land of Ibex and Snow Leopard. The most interesting to see is Chamurti horses, which are popularly called the camel of a cold desert. The lifeline of this difficult terrain, Spiti, and Chamurti are among the six recognized finest breeds of horses in India. Pin valley is a protected area, with Rupi Bhaba wildlife sanctuary to its south and Great Himalayan National Park to its southwest. Overnight stay at Mudh.

Day 3: Mudh (3820 m) – Kungri – Lidang (3650 m) – Demul (4350 m) – Komic (4570 m) – Hikkim – Langza (4360m).
Leaving Mudh, to visit Kungri gompa in Pin valley and drive back to Atargo and from Lidang, we take a link road to Demul one of the highest villages in Spiti valley. After exploring Demul continue the tour to the high village of Komic, Hikkim, Langza, situated at a height between 13500 ft. and 14400 ft. is a favorite place to find fossils. The high plateau where Chau Chau Kang Nilda dominates the area. After visiting Tangyud gompa at Komic continue drive to Hikkim, Langza. Overnight at Langza.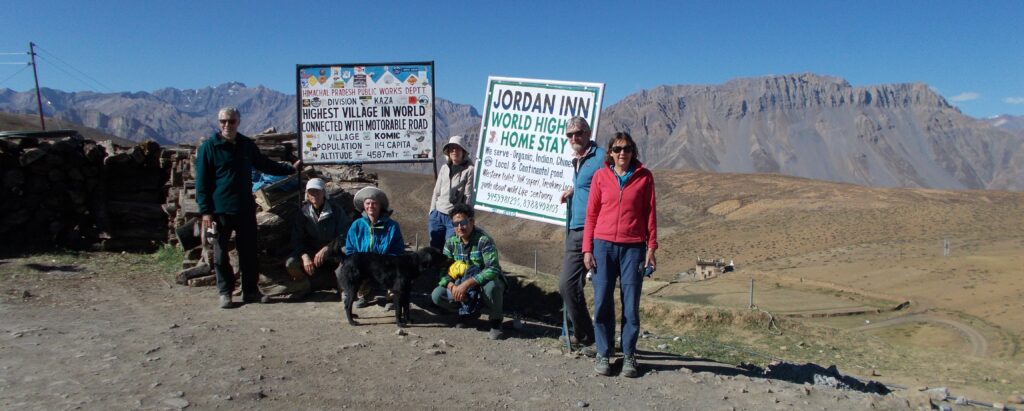 Day 4: Langza – Kee (3920 m) – Tashi Gang (4400 m) – Kibber (4150 m).
Leaving Langza, drive to Kee. Exploring around, Kee monastery is the next place to be visited. Situated on a steep ridge on the left bank of the Spiti river belongs to the Gelukpa sect of Tibetan Buddhism. 10 km. above driving up to Kibber village (4205 m.) we visit – Tashi Gang village (4400m.) the 2nd highest village in the world and finally drive back to Kibber for an overnight stay.
Day 5: Kibber – Chichim (4150 m) – Kiato – Kunzum La (4550 m) – Chandra Tal (4270m) – Manali.
Leaving Kibber drive to Chichim, Dumla, Ladarcha, Kiato to Losar the last village in the valley. After Losar road climbs up to Kunzum la pass (4551m), which connects Lahoul with Spiti. The panorama as viewed from the top of the pass is enthralling and inspiring. Continue to Chandratal – The Lake of Moon. Vast meadows around the lake carpeted with alpine flowers. A magnificent view of the Samudra Tapu glacier and Mulkila range is obtainable from here. Finally, drive back along the Chandra River to  Chota Dara and Chatru and to Atal Tunnel towards Manali.

REVIEWS
"I am really touched by few gestures which I think need a mention here. Warm reception at Manali and a gift by Potala. Early breakfast provision at Keylong and Kaza. Warm reception above expectation behavior in the Kalpa hotel. Homely food at home atmosphere, medical care at Kibber. Our pilot Mr. Umesh is very well behaved, soft-spoken, effective, and helpful and have been really sympatric to our problematic situations. Also, he is very much methodical about his approach and achieved perfection in providing a well instrumental tour."
Mr. Durjoy – KOLKATA, 11 to 18 October
Spiti Tour – Himachal Pradesh – India
"Thanks for all the arrangements. The driver from Delhi to Manali was a very experienced one. He drove fast in an experienced way. Me and my team really liked Tenzin from Dhankhar. He is a very friendly, kind and a good driver. We were lucky to be with a local driver. Thanks again and hope everything is in good health and happiness with you. Thanks and kind regards."
Mrs. Lydia – NETHERLANDS – 19 Aug to 31 Aug

Trip Highlights
Explore Spiti Valley
Ancient monasteries and high villages
The Lake of Moon "Chandratal"