Markha Valley is one of the most famous treks of the Ladakh Region. Markha valley remains one of the most popular trekking routes in the Indian Himalayas. Markha valley has a very significant role in the Ladakh environment and its ecology. The first Hemis high altitude national park which is named after the great monastery of Hemis was created in 1981, the first national park in the North of the main Himalaya range, and second this park known as Snow-Leopard conservancy, India's best-protected area for Snow Leopard. We will discover how local people have been fully committed to conserving Snow leopard. This trek offers an abundant treasure of natural beauty, mountains with different colors, shapes, and sizes. With altitude exceeding 3000m to 6000m and its numerous small villages along the trails, pastures, and passes. High altitude pastures of Nimaling and the valley are greatly dominated by Kang Yatse (6400m) and its surrounding peaks. There are great chances to observe wild species in the late afternoon and early morning.
Overview
Setting off from Leh after 2-3 days of well acclimatizing, we drive to Zingchen and ascend to Ganda La via visiting Rumbak, Rumbak area which is known for the Snow Leopard area. Descending through the narrow gorge to Skiu where Markha valley widens up, we follow the Markha River to Nimaling plains. Meeting locals and visiting their house and exploring the region finally steep descent from Kongmaru la to Chogdo near Shang. Where our trek ends.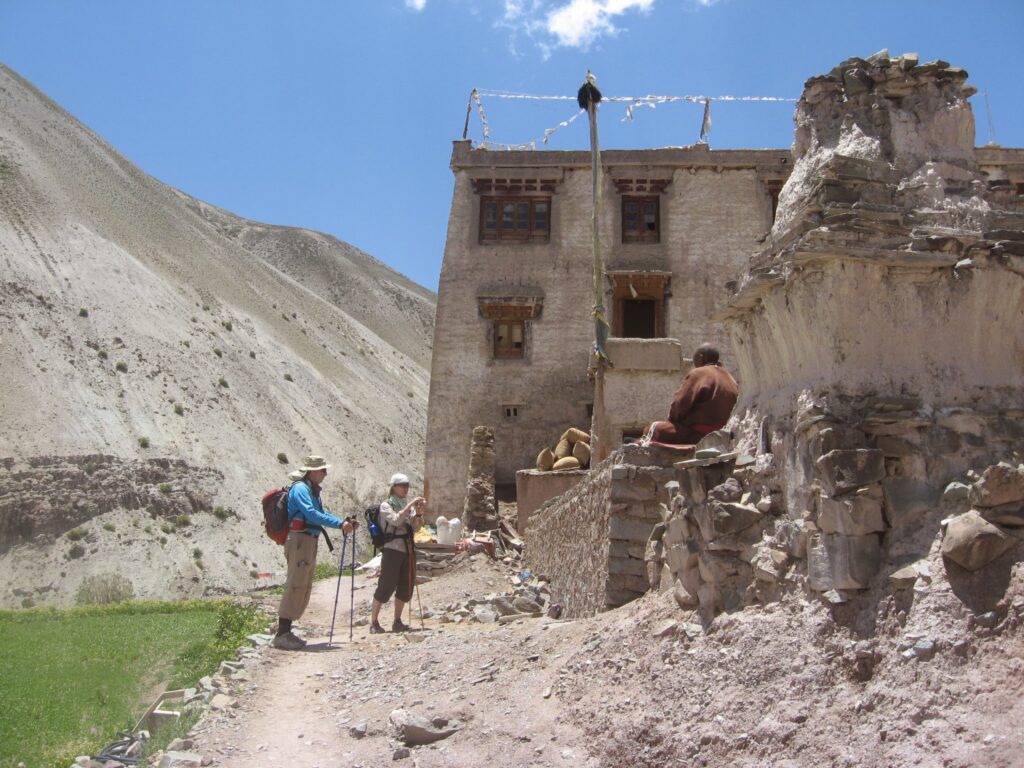 ITINERARY
Day 1: Drive Leh – Spituk – Zingchen (3530m), Trek to Yurutse (4200m) via Rumbak (4050m), 5 – 6 hrs.
Leaving Leh Today after breakfast drive to Spituk which is 7 km and has a Gelukpa sect monastery built on a hill and has a magnificent view of Indus valley, continue to drive to the starting point of trekking, where our mules and horses will be waiting for us. Staff will load luggage as you continue to trek on a clear path. Now easy and gentle walk southwest of Indus River until the confluence of Zingchen and Indus. Leaving the main Indus valley and traversing to the left valley upstream along the small river to Zingchen. Gradual climb to Rumbak on a well-defined trail. We pass Rumbak village. A fabulous view of snow-capped Stok Kangri can be seen. Now we move towards the Rumbak Nallah, crossing it walk along the right side leading towards Yurutse. Yurutse has only one house and has a field of vegetables and barley crop. Overnight in camp.
Day 2: Trek to Gandha la (4900m) – Shingo (4060m) – Skiu (3290m). 5 – 6 hrs.
Gradual ascent to the base of pass 4500m and then a steep climb to Ganda la pass 4900m. The views from the top Zanskar range to the south and Ladakh range to the north and Karakoram beyond Ladakh range. Soon after long descent to Shingo 4060m and then on a narrow and stunning gorge leading towards Skiu and the valley opens out. We are in the main Markha valley. At a short distance beyond Skiu our campsite.Overnight in camp.
Day 3: Trek to Markha (3710m), 6 -7 hrs.
Leaving Skiu today we will have a long, easy and pleasant walk up the Markha valley. We hike along the Markha River and cross numerous adjoining streams. The trail passes through willows, poplar trees, and sea buckthorn bushes. Passing by Chaluk, the last river to be cross before Markha. Markha is a wonderful village which has a charming campsite and deserted fort can be seen from camp, Overnight camp.
Day 4: Trek to Hankar (3900m) – Thachungtse (4200m), 5 hrs.
Leaving Markha today you cross the river several times. We follow the clear path along the right bank and pass beneath the Humlung monastery. A few hours later arrived at the high village of Hankar, continue on the track leaving the broad valley and turning towards the narrow valley. As the trail goes higher and higher up the landscape presents spectacular scenes. Lastly crossing the bridge and continue to higher meadows of Thachungtse.Overnight in camp.
Day 5: Trek to Nimaling (4747m) 5 hrs.
Today trek starts on an easily seen good path. An easy trail at the start then gradually ascend with several small inclines and over meadows. Now you are trekking through one of the most beautiful high valleys in Ladakh. Soon after the view of Kang Gyatse peak remains on our site while trekking. Kang Gyatse peak dominates the Markha valley. During summer number of shepherds live in small doksas looking after their sheep, yak, dzo, horse, and goat. Continue trek across the vast and grassy plains of Nimaling and having a 360° view of the impressive landscape. Overnight in camp.
Day 6: Trek to Kongmaru La (5260m) – Chuskirmo (4430m) – Chogdo (3930m), Drive to Shang Sumdo (3660m) – Leh.
Today leaving Nimaling, continue on a path where small stream to cross then a gradual climb to the top of the highest pass of our trek, with its wonderful views from the top as far as the eye goes to all directions. On a clear sky, one can see Kangyatse, far across K2 and Karakoram Range and its peak rising above 7000m. Soon after crossing the pass steep and long descent to Chuskirmo. We pass the small village of Chokdo and from here drive to the village of Shang Sumdo. leaving Shang Sumdo the road goes along the Indus River to Leh.
REVIEW
"Our experience has been truly a memorable one. The scenery has been incredible, the interactions with other travelers most enjoyable, and the service provided by our guide, cook, and pony men were exceptional. Our guide has been without a doubt, the most accommodating and helpful in every way; our cook created fresh culinary masterpiece each day (include a surprise anniversary cake); and our pony man, was most gracious in every way. We highly recommend Potala Adventures to all world travelers".
Mrs. Kristie A. & Mr. Martin A. USA
Trip Highlights
Hemis high altitude national park
Spectacular Markha valley & Rumbak valley
Campsites at peaceful locations
Scenic mountain trail
Ancient villages and fort